(Clearwisdom.net) Minghui correspondent Cai Ju reports: On July 20, 2005, from 6:00p.m. to 9:00 p.m., Falun Gong practitioners in New York City gathered in front of the Chinese Consulate to call for an immediate end to the brutal and senseless persecution of Falun Gong that has lasted for six years. Practitioners peacefully practiced the exercises and sent forth righteous thoughts. The banner reading, "Stop the Persecution of Falun Gong Practitioners" in both Chinese and English was very eye-catching.
(Clearwisdom.net) Six years ago, Chinese Communist leader Jiang Zemin started the persecution against Falun Gong because he regarded the great popularity of the practice, which was known to improve health and moral values, as a challenge to his personal power and the legitimacy of the Chinese Communist Party (CCP). The political powers of the CCP, which has been responsible for 80 million deaths since coming to power in 1949, allowed Jiang to realize his orders to "destroy Falun Gong practitioners physically, bankrupt them financially and ruin their reputations."
(Clearwisdom.net) Wife of Korean citizen Mr. Guo Binghao, Falun Gong practitioner Gao Chengnu, arrived home in Korea on July 20, 2005. She was warmly received by Falun Gong practitioners and others.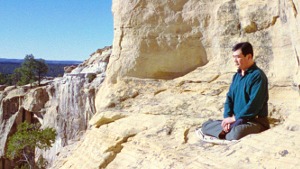 Master Li quietly watching the world from amidst the mountains after leaving New York following July 20th, 1999. (Published January 19, 2000)