Falun Gong Denounces Persecution in front of Chinese Consulate in Toronto (Photos)
June 25, 2005 | By a Toronto Falun Gong practitioner
(Clearwisdom.net) At around 5 p.m. in the afternoon of June 20, 2005, about sixty Falun Gong practitioners rallied in front of the Chinese Consulate in Toronto. The rally was to commemorate Ms. Gao Rongrong, who was persecuted to death by the CCP. Ms. Gao was the 2576th reported Falun Gong practitioner to have been killed in mainland China. Falun Gong practitioners appealed to the Chinese government for an immediate end to the persecution.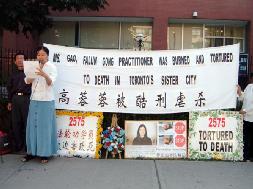 Toronto Falun Gong practitioners expose the facts of persecution in front of Chinese Consulate
Gao Rongrong was an employee of Luxun Art College of Shenyang City in Liaoning Province. She was arrested by local policemen in front of her house on June 22, 2003 because she practiced Falun Gong. After two years of torture in jail, she died in China Medical University First Attached Hospital in Shenyang City on June 16, 2005. In the jail, she was repeatedly beaten, resulting in the loss of hearing in one ear. Once, she was continuously tortured with electric shock batons for seven hours, which left her with serious burns that covered her face. Because of the torture, her organs were ravaged and she became emaciated.
For a short period of time, Gao was rescued by Falun Gong practitioners and the torture she suffered was exposed to the world. But after China's 610 Office leader Luo Gan personally ordered the police to chase her down and retaliate against her, Gao was arrested again in March 2005. She died in custody after that.
Falun Gong practitioner Jeff said that one week ago three Chinese diplomats and National Security Bureau officials broke away from the CCP in Australia. The Chinese Communist Party denied their exposure of China's persecution of Falun Gong. "But only a few days later, Falun Gong practitioner Gao Rongrong was persecuted to death."
Jeff said, "I am very worried about the fellow practitioners being persecuted in China. We must uphold our belief in 'Truthfulness Compassion Forbearance, and expose this evil persecution until it is ended."
Head of the Toronto Falun Dafa Association Mr. Zhang Zhaojin said that he respected very much the Chinese Falun Gong practitioners who persist in their belief in the face of vicious persecution. He said, "There are a lot of people are helping and supporting us now. Since the persecution is still going on, we will continue the anti-persecution efforts until it comes to an end."