Sweden: First-ever Swedish Performance of the "European Coming For You" Choir (Photo)
(Clearwisdom.net) On the 11th of June 2005, the "European Coming For You" Choir made its first-ever performance in Sweden, performing at the concert "Coming for You -- Where East Meets West" at Berwaldshallen in Stockholm. The concert was sponsored by New Tang Dynasty TV and Kulturföreningen Främja Traditionell Kultur & Konst (The Culture Association to Promote Traditional Culture & Art). Artists including tenor Guan Guimin, one of the most popular Chinese singers, the Lendvai String Trio and the dancer Kathleen Quinlan also performed at the concert.
The "European Coming For You" Choir was established by European practitioners who were inspired by the 35 Western Falun Gong practitioners who went to Tiananmen Square in Beijing to appeal for Falun Gong in November 2001. The choir has already given several large-scale performances in Europe and the USA.
The performers received enthusiastic applause at the end of the concert.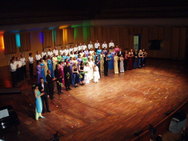 Artisterna tar emot publikens applader efter konserten

Originally published in Swedish at http://se.clearharmony.net/articles/200506/14673.html
Source http://clearharmony.net/articles/200506/27268.html