San Diego, California: Practitioners Rally to Call Punishment of Murders (Photos)
June 24, 2005 | By San Diego practitioners
(Clearwisdom.net) At noon on June 21, practitioners rallied at the city hall plaza in San Diego to commemorate Gao Rongrong who was murdered 5 days ago and to strongly demand punishment of murders of Ms. Gao.


Practitioners rallied at the City Hall Plaza to demand justice for Ms. Gao
During the rally, a representative stated that the death case of Gao revealed a typical mode of CCP's persecution against practitioners: Appalling human rights violation, planned cover of crimes, no one related held accountable. Practitioners, however, demand a thorough investigation of Gao's case and punishment of the murderers. Practitioners also call upon governments of different nations around the world, all organizations and individuals to condemn the atrocity of CCP and help end this disaster of humanity.
A representative of practitioners demanded a thorough investigation of Gao's case and punishment of the murderers.
A representative of Friends of Falun Gong San Diego chapter, also addressed the rally. She said that the "Truthfulness-Compassion-Forbearance" philosophy of Falun Gong is completely in contrast to the "Combat" philosophy of the CCP and this was the reason of the persecution. She pointed out that while this most cruel and violent persecution in the history of mankind is still ongoing, most western mainstream media outlets have remained silent. Commercial interests keep these companies, and even governments silent. Meanwhile, the CCP is using the money invested by foreign companies to persecute Falun Gong. Unfortunately, these companies are actually accomplices of the CCP in this human rights atrocity.
She called upon all governments and companies not to trade human rights and human dignity for money and not to forget their moral responsibilities. She called on people from all circles to help practitioners reinstate their rights of belief.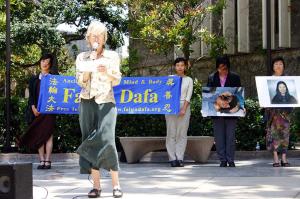 Ms. Sommer, representative of Friends of Falun Gong
Practitioners displayed some photo posters which exposed the truth of the persecution and distributed related materials. Upon learning about the truth, civilians in succession condemned the persecution and expressed their support for Falun gong practitioners. q4q
| | |
| --- | --- |
| Passersby come to learn the truth | A photo display at the rally site |