The City of Easton, Pennsylvania Proclaims Falun Dafa Week (Photo)
June 17, 2005 | By a Falun Gong practitioner from Pennsylvania
(Clearwisdom.net) On June 11, 2005, the Mayor of Easton, Pennsylvania, Mr. Philip B. Mitman, the Mayor of Northampton County, Mr. Glenn F. Reibman, and nine city council members proclaimed Falun Dafa Week in the Easton Public Library.
Easton is a historic city that people always remember as one of the three places the "Declaration of Independence" was announced. It is located in a beautiful area, where the Delaware River meets the Lehigh River.
The proclamation of Falun Dafa Week was co-signed by Senators Lisa M. Boscola, Patrick M. Browne, Robert C. Wonderling, State Congressmen Richard T. Grucela, Craig A. Dally, Julie Harhart, Steve Samuelson and T.J. Rooney. Mr. Robert L. Freeman attended the ceremony in person and announced the proclamation. In his speech, he said that Americans need the harmonious Falun Gong exercises and "Truthfulness Compassion Tolerance" in their lives.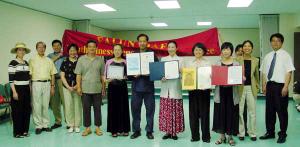 Falun Gong practitioners and the proclamation
The ceremony lasted about two and a half hours. As part of the program, Falun Gong practitioners and musicians Mr. Chen Rutang and Mrs. Chen Yingfang performed a duet. Their son, Mr. Chen Gang talked about the tortures he experienced in China. Several Falun Gong practitioners from New Jersey and New York demonstrated and taught the Falun Gong exercises.
Easton is one of the 100 Cities of Artists. Several artists came to the meeting and learned the five sets of exercises after the speeches.
One artist said he felt a strong energy field when he walked towards the stairs to the meeting room. Another young man, who just graduated from a culinary school, said he had looked everywhere in Easton for a Falun Gong practice site but couldn't find any. He almost planned to move to New York, but fortunately he saw the notice in the library a few days before. So he came and found Falun Dafa.