Spain: Introducing Falun Gong to the Participants of the International Nature Therapy Conference (Photos)
(Clearwisdom.net) On May 14, 2005, an International Nature Therapy Conference was held at the parliament mansion in Madrid. Nearly one thousand academics and supporters attended this conference. After being given permission by the conference organizer, Madrid practitioners introduced Falun Gong in the square outside the conference, including demonstrating the exercises and distributing leaflets and VCDs to introduce Falun Gong.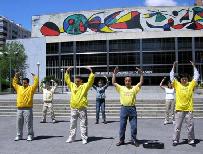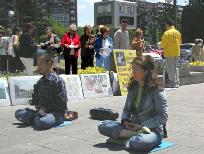 Demonstrating the five sets of Falun Gong exercises
Practitioners' graceful exercises demonstrations attracted the participants' interest. During the two-hour break, to watch practitioners doing the exercises, many people sat in deck chairs or on the grass plot inside the square for a long time. They kept saying, "It is so beautiful!" Some people even started learning the exercises right away and said that they would definitely go and join the group exercises in the park over the weekend.
Many participants were medical academics. After listening to the practitioners' introduction about Falun Gong, they said: "For such a good exercise, you really should make a speech about it during the conference!" When they were told that practitioners had only heard about the conference the night before and had no chance to apply, they said that they would introduce Falun Gong to their colleagues and friends as well as invite practitioners to give a special presentation on Falun Gong.
| | | |
| --- | --- | --- |
| Clarifying the truth to conference attendees | Clarifying the truth to conference attendees | Some people learn the exercise on the spot |
While practitioners were distributing the leaflets and talking to people, they found out that many people had already heard about Falun Gong: some of them heard about it at the National Health Exposition, some from newspapers or television, and some of them had heard of it from friends. Furthermore, many of them knew that Falun Gong is a practice which benefits both mind and body but is suffering persecution in China. Some people even came to particularly ask how they could help those practitioners who are persecuted in China.
http://www.clearharmony.net/articles/200505/26797.html