Sweden: "Truth-Compassion-Forbearance" Shines in Children's Hearts - Part 1 (Photos)
(Clearwisdom.net) Falun Dafa practitioners from Nordic countries gathered in Stockholm on March 25 to spend the Easter weekend together. They practiced the exercises, studied the teachings of Falun Gong and shared their experiences of cultivation practice.
Many children came with their parents. They were quite excited about this meeting as they would get to meet their classmates from the Swedish Minghui School. One mother of two said, "My children waited enthusiastically for this Easter meeting with the other children and practitioners. They are really enjoying themselves. Because Falun Dafa practitioners cultivate Truthfulness-Compassion-Forbearance, the environment in these kinds of meetings is really harmonious and peaceful. It is a good environment for the children."
When the practitioners did the exercises, the children took the initiative to form a group practice of their own.




After dinner one evening, the children surprised the adults by staging a performance. First, they chose to sing some songs, starting with "Falun Dafa Hao" (Falun Dafa is Great) and then moving on to "Coming for You." After the songs, they recited some of Master Li's poems from the book Hong Yin, in Chinese and in Swedish. Their pureness and sincerity won a long round of applause. The children try to follow Falun Gong's guiding principles of "Truthfulness-Compassion-Forbearance," so they are very friendly to each other and get along very well.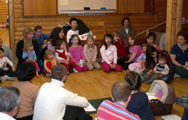 Source: http://clearharmony.net/articles/200503/25632.html