(Clearwisdom.net) Soon after the announcement of the "Photo Exhibit of Falun Dafa Practitioners Validating the Fa" was made, the Photo Exhibit Preparatory Committee received photos submitted from numerous Falun Dafa practitioners and from righteous people who support Falun Gong. Fellow practitioners had taken some of these photos when they attended large-scale Dafa activities; some were taken at practice sites in their local areas; some were taken at home; still others were taken by our fellow Chinese citizens (non-practitioners) who risked their lives to submit photos about Dafa practitioners suffering persecution. We would like to express our sincere thanks to all of them.
(Clearwisdom.net) Comprehensive report from a Minghui correspondent: The Chinese Communist evil spirit has chosen to go against Falun Dafa, and it is doomed to be thoroughly eliminated before the Fa-rectification reaches the human world. In order to avoid bringing disaster upon themselves when the Party's end arrives, it is imperative for people who once joined the CCP or other organizations affiliated with the Party, and were thus branded with the mark of the beast, to take advantage of this opportunity to declare their withdrawal from the Party or the Youth League.
(Clearwisdom.net) On Saturday March 5, 2005, practitioners of Falun Gong visited Hlohovec, a medium-sized city in western Slovakia, to let people know about the continuing persecution against the practice in China. Even though the weather was freezing, the sun came out and warmed everyone up as the practitioners spent the day handing out leaflets and chatting to local people. They told people about the benefits they have received from practicing Falun Gong, as well as the brutal persecution that is happening in China and has already taken the lives of over 1,400 people.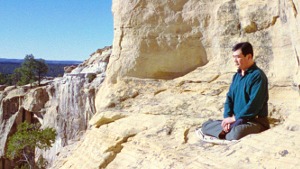 Master Li quietly watching the world from amidst the mountains after leaving New York following July 20th, 1999. (Published January 19, 2000)