(Clearwisdom.net) Ten years ago this March, Master Li came to Paris to introduce Falun Dafa and met with the Chinese Ambassador to France and other embassy officials. Master Li was invited to give a lecture in the Department of Culture at the Chinese Embassy in France. Since then, Falun Gong has spread overseas.
(Clearwisdom.net) In order to help the people in Bulgaria learn more about Falun Gong, Bulgarian practitioners gave 139 copies of the introductory book Falun Gong in Bulgarian language to the Central Library in Sofia. The library will distribute the books to 121 community centre libraries in the capital city of Bulgaria, as well as in 18 libraries in the surrounding district. Every library in Sofia and the surrounding district will soon have a copy of Falun Gong.
(Clearwisdom.net) Between the 4th and 6th of March 2005, a Health Expo was held at the Scandinavian Center in Aarhus, the second largest city of Denmark. This expo is popular among the people of Denmark, who came to learn about different methods of health and fitness from experts of various nationalities.
~ Young Practitioners' Experiences ~
~ Other Community Events ~
~ Falun Dafa in the Media ~
~ People in China Awaken to the Truth ~
~ Journeys of Cultivation ~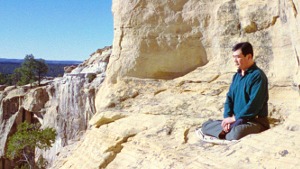 Master Li quietly watching the world from amidst the mountains after leaving New York following July 20th, 1999. (Published January 19, 2000)