Australia: Falun Dafa Association Australia Asks Government to Deny Entry to Zhang Dejiang (Photo)
November 06, 2005 | By a practitioner in Australia
(Clearwisdom.net, November 5, 2005) On November 4, the Falun Dafa Association of Australia held a press conference in front of the Department of Justice in Sydney and asked to deny entry of Zhang Dejiang, Secretary of the Guangdong Provincial Committee of Chinese Communist Party (CCP) since November 2002.
Falun Dafa Association Australia spokesperson John Deller pointed out in his speech that Zhang Dejiang was responsible for the systemic persecution of Falun Gong practitioners in Guangdong Province. It has been verified that at least 64 practitioners were tortured to death in Guangdong and at least 109 practitioners were arrested unlawfully during the first half of this year.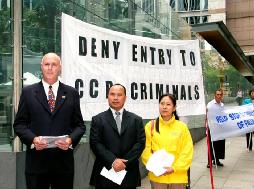 Falun Dafa Association Australia holds press conference in front of Department of Justice
Mr. Deller pointed out in his letter to the minister of Department of Justice that the CCP's persecution of Falun Gong in the last six years used hatred propaganda, economic persecution, torture, and killing. It is a violation of human rights and morality. He called on the Australian government and international community to investigate and help end the six-year-long persecution against Falun Gong.
Ms. Yan Xie, who was imprisoned for more than two years in the Guangzhou Women's Labor Camp, narrated her suffering in the camp. She said that she was cuffed to iron window bars for several consecutive days and nights, deprived of sleep and forced to labor for more than 16 hours daily. There is no justice in China, but that's not the case in Australia. She is consulting with attorneys and departments concerned to take lawful actions in Australia to bring to justice those people like Zhang Dejiang for committing crimes against Falun Gong practitioners.
Australia citizen Mr. Chen called for help to rescue his relatives who are being unlawfully imprisoned in Guangdong Province and asked the Australian government to deny entry to human rights criminals.
After the press conference, Mr. Deller and Ms. Xie handed over letters to the office of the Department of Justice, reports on practitioners persecuted in Guangdong Province during Zhang Dejiang's term and a report about practitioners in Guangdong Province being persecuted.