(Clearwisdom.net, November 10, 2005) On November 8, 2005, 15 practitioners who were persecuted by the Chinese Communist Party (CCP) for their practice of Falun Gong have retained lawyer Carlos Iglesias to file a suit against Chinese Commerce Minister Bo Xilai in Madrid's High Court. Bo is charged with committing the crimes of genocide and torture during the persecution of Falun Gong.
(Clearwisdom.net) On November 8, 2005, Hu Jintao arrived at London and began his 3-day visit to Britain. Falun Gong practitioners held peaceful demonstrations along his trip calling for an end to the persecution.
(Clearwisdom.net) With the increasingly busy and hectic lives that many people living in London lead, it must have been quite a shock to come face to face with a young Chinese man who seemed to be bleeding heavily from a face wound, under close scrutiny from what appeared to be a Chinese policeman.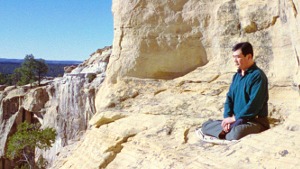 Master Li quietly watching the world from amidst the mountains after leaving New York following July 20th, 1999. (Published January 19, 2000)