Denmark: People Learn About Falun Gong at Health Fair in Copenhagen (Photos)
October 26, 2005 | By Danish practitioners
(Clearwisdom.net) In order to allow more people to learn about Falun Gong, practitioners in Denmark participated in a huge health expo that was held on October 7-9, 2005 in Copenhagen, the capital of Denmark. They displayed posters at their booth and held two workshops to introduce Falun Gong. During the three-day event, many people had the opportunity to learn about Falun Dafa.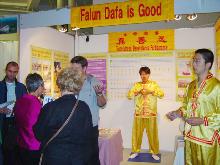 Falun Gong practitioners' booth
Many practitioners rescheduled their work in order to take part in these activities. Practitioners from other cities also came to participate. Several western practitioners who had just learned Falun Dafa also took the initiative to participate. Some practitioners meticulously made hundreds of beautiful paper lotus flowers, on which were written the Falun Gong website address and "Falun Gong is good!"
When people passed by the exhibition stand, they were often attracted by practitioners' exercise demonstration, and they happily accepted Falun Gong leaflets as well as paper lotus flowers. The harmonious energy field left people with a deep impression.
| | |
| --- | --- |
| Practitioners' hand-made paper lotus flower | Learning about Falun Gong |
Falun Gong is known to a lot of people, and many of them exclaim, "Oh, Falun Gong!" upon seeing the practice.
More than a month ago, Falun Gong practitioners in Denmark filed a lawsuit with the Prosecutor General against Jia Chunwang on the charge of genocide. Jia, one of the heads of the infamous 610 Office, came to participate in an international conference in Denmark. In this country that respects human rights and freedom of belief and tradition, the lawsuit received popular support. Major media provided positive coverage about the persecution of Falun Gong. Many letters from readers expressed their righteous indignation and condemnation of this persecution.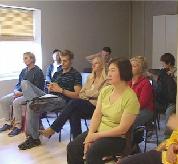 People attentively listen to the presentation given at the workshop
The practitioners also held two workshops during the expo. From the exercises to the persecution, the speakers and audience exchanged views and interacted in a lively way. A lot of people left with smiles and went to purchase a copy of the practice's introductory book, Falun Gong, in the Danish language at once. Some started learning the exercises right away and experienced the profundity of the exercises. More people asked for detailed information in order to learn the exercises in the future.
Source: http://clearharmony.net/articles/200510/29459.html