United Kingdom: "Friends of Falun Gong" at the University of Leicester Fresher's Fair (Photos)
October 24, 2005 | By practitioners in the UK
(Clearwisdom.net) On October 3 and 4, 2005, invited by the University of Leicester Student Union, Friends of Falun Gong (FoFG) joined the annual Fresher's Fair.
The FoFG stand was near the entrance to the main hall. Many new students who passed by took a look at the exhibition boards explaining more about Falun Gong. A lot of students were happy to take a leaflet. After learning about Falun Gong and the persecution of practitioners in China, quite a lot of them came back and joined the Friends of Falun Gong Association. Two student representatives of Amnesty International who were manning their stand also joined FoFG and discussed possibilities for future cooperation between the two associations.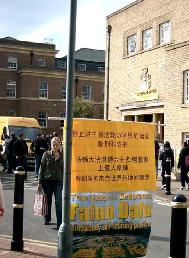 Truth-clarification poster boards beside the main road through the University of Leicester
Facing the entrance to the Student Union is the main road through the University of Leicester. The Friends of Falun Gong set up many large posters at the side of the road. The posters read, "Stop the torture and killing of Falun Gong practitioners in China," "Falun Gong has spread to over sixty countries," "Falun Gong is practiced by over a hundred million people worldwide" and "Falun Gong has received many awards and proclamations around the world." Many Chinese students who had just come to Leicester from Mainland China were pleasantly surprised and took photos of the Falun Gong stand. In one day, over eighty informational Video-CDs were given out. The students may start to think, why is Falun Gong only persecuted in China?
In the afternoon of October 4th, the stand was moved to a larger area near the entrance outside the hall. Every student passing by could see it and many of them joined the association. Quite a lot of them enquired about the time and location of the Falun Gong exercise lessons, which are provided free of charge. Some Chinese students were also interested in learning the exercises and, with a little hesitation, they left their email addresses. There was one female Chinese student who refused to take a VCD at first. But after discussing with her friends, she came back and took the VCD.
Source: http://clearharmony.net/articles/200510/29414.html