Practitioner Li Guang, a TV Reporter in Laizhou, Shandong Province, Was Beaten to Death (Photo)
January 18, 2005 | By practitioners in Weifang, Shandong Province
(Clearwisdom.net) Falun Gong practitioner Mr. Li Guang was a TV reporter and presenter in Laizhou, Shandong Province. He was illegally arrested, imprisoned in Weibei Prison in Weifang City and cruelly tortured for being steadfast in his belief in Falun Dafa. On December 3, 2004, Li Guang was beaten to death by prison guard Xu Haiming and others.
Mr. Guang was a resident in Laizhou, Shandong Province. Li Guang was an honor graduate from Beijing University of Aeronautics and Astronautics. Prior to his arrest, he was a reporter and presenter at the Laizhou TV Station. He was unlawfully arrested at the Qingdao Aviation Sanatorium for his belief and was then imprisoned at the Weibei Prison in Weifang.
In March 2004, Li Guang assertively requested the prison authorities to release unlawfully detained Falun Gong practitioners as soon as possible, and for this he was cruelly persecuted. To protest the prison guards' evildoings, Li Guang launched a hunger strike, which lasted for seven months. In order to make him renounce his faith, the prison guards used up to seven electric batons to shock him simultaneously, which made his neck swell to the same size as his head. During the hunger strike he suffered various kinds of torture; there were 40 incidents of electric shocking alone, lasting between three and four hours each time.
During the unlawful imprisonment, Li Guang refused to cooperate with the forced brainwashing known as "political studies." He also refused to participate in forced labor or watch slanderous TV propaganda.
Li Guang was initially in No.5 Ward in Weibei Prison. Prison guards there exhausted all their methods but failed to shake his determination in his belief.
At the end of November 2004, Li Guang was transferred from the No. 5 Ward to the Educational Section. Section Head Xu Haiming, a principal perpetrator in that prison had attended nationwide training [on the persecution of Falun Gong practitioners]. Because he was actively involved in persecuting practitioners, he was awarded 5,000 yuan. He organized a group of criminal inmates to torture practitioners.
Under Xu Haiming's leadership, prison guards took steadfast practitioners from different wards in groups to the prison headquarters for further persecution. Li Guang was in the last group from the No. 5 Ward to be transferred to a confinement room in the No. 1 Ward where he was continuously deprived of sleep. Within five days, under Xu Haiming's high-pressure persecution, Li Guang was beaten to death on December 3, at the Weibei Prison Headquarters.
Li Guang's body was directly sent to the prison headquarters hospital's mortuary. The next day the prison notified Li Guang's family. When the family members inquired about the cause of Li Guang's death, Liu Yongchang, the deputy prison Head, called in about 20 police to tightly guard the area and did not permit any person to get close.
The Weibei Prison held a series of meetings to order all the prison guards to tell the identical lie that Li Guang hanged himself. They stonewalled all requests for information and threatened that whoever disclosed the truth would be fired immediately, once verified. They also said they needed to strictly control practitioners' activities, and so on.
Below is the letter Li Guang had written in prison to his fellow practitioners: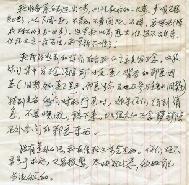 "I am going to take another step forward. This may be my last big step. I have handed in my statement, which said that from next Monday on I will stop doing forced labor, I will not wear the prison uniform and I will not squat down. I will practice the Falun Gong exercises (whether this can be achieved is another issue). I have thought of these before but I could not step forward. After studying the Fa during the recent period of time, I don't think it is difficult any more.
"About what you can do to cooperate with my actions, I think you can send forth righteous thoughts. Please concentrate on sending forth righteous thoughts to eliminate the evil factors (the dark minions, wicked beings and old forces who participate in the persecution) that control the evildoers in the No. 5 Ward. In particular, when they do violence on me, please do not be disconcerted if you hear it. Calm down and strengthen the righteous thoughts to eliminate the wicked things in other dimensions.
"If there are no surprises, I believe I can walk this step well. You should avoid being overanxious for quick success, and meanwhile you should be diligent so that you can catch up as soon as possible and do well the things you should do."
Phone numbers of responsible persons in Weibei Prison:
(Please dial country + area code: 86-536 before all regular phone numbers except for cell phones)
Xu Haiming, Education Section Head: 7548244 (Office), 7548318 (Home), 86-13606361592
Chen Jian, Prison Head: 7541245, 7548201 (Office), 7541673, 7548218 (Home)
Li Wuguang, Prison Political Head: 7541246, 7548202 (Office), 7548382 (Home)
Liu Yongchang, Deputy Head: 7548203, 7541126; 13906365221; 7548276 (Home)
Zheng Minli, Secretary of the Discipline Committee: 7548209, 7548232 (Office), 7548269 (Home)
Wang Jinwu, Administration Section Head: 7541254, 7548243 (Office), 7548606 (Home)
Zhao Bing, Administration Section: 7548361, ext Zhao Bing; 7548327, ext. Zhao Bing
Sun Jisheng, Education Section: 7548244 (Office), 7541672 (Home)
Wang Wensheng, Party Branch Secretary: 754824, 7548312 (Home)
Li Junxuan, Principal of attached school for prison guards' children: 7548339, 7541299 (Home)
Ma Xiubin, Head of the Investigation Section: 7548223, 7548719 (Home)
Fan Yongsheng, Police Station Head: 7548235, 7548268 (Home)
Yan Yao, Deputy Police Station Head: 7548235, 7548531 (Home)
Yang Xuewu, Paper Mill: 7548341, 7541260, 7548088 (Home)
No. 1 Ward Head, Chen Wanzhi: 7548321, 7548019; Political Head, Wang Xiyun: 7548321, 7541088 (Home)
No. 2 Ward Head, Lu Xingqiang: 7548382, 7541613 (Home); Political Head, Wang Songbo: 7548322, 7548038 (Home)
No. 3 Ward Head, Xu Hongchen: 7541043 (Office); Political Head, Feng Gang: 7548323 (Office)
No. 4 Ward Head, Yao Zhijun: 7541014, 7541049 (Home); Political Head, Chi Shengde: 7548324, 7541029 (Home)
No. 5 Ward Head, Zhao Hongmin: 7548061, 7548071 (Office); Deputy Head, Yang Liangang: 7548325, 7548619 (Home); Political Head, Liu Nan: 7548325, 7548063
Supervision Section Head, Song Gaoli: 7548325, 7548605 (Home)
No. 6 Ward Head, Wang Guizhi: 7548326, 7541046, 7541093 (Home); Political Head, Jiang Qingguo: 7548326, 7548087 (Home)
No. 7 Ward Head, Jiang Shunguo: 7548327, 7541047, 7548705 (Home); Political Head, Liu Lixue: 7541047, 7541290 (Home)
Education Section Head, Feng Zhongmin: 7541047, 7548505 (Home)
No. 8 Ward Head, Li Jian: 7548359, 7548703; Political Head, Wang Gexin: 7548359, 7548716 (Home), 7541655 (Home); Team Leader, Zhang Liquan: 7548496; Team Leader Guan Haiji: 7548396; Jiang Jingang: 7541236
No. 10 Ward Head, Chen Zifu: 7541255, 7548345, 7541212 (Home); Political Head, Wang Jun: 7548345, 7541651 (Home)
No. 11 Ward Head Liu Peijie: 7541256, 7548343; Political Head, Cheng Liang: 7541256, 7548198 (Home)
December 18, 2004