UK: Practitioners Introduce Falun Dafa and Expose the Persecution During Cambridge Falun Dafa Week (Photos)
(Clearwisdom.net) On October 24 and 25, 2004, Falun Dafa practitioners from Cambridge and other parts of the UK held activities to introduce Falun Dafa and expose the persecution taking place in China as part of Cambridge Falun Dafa Week.
On Saturday the 24th, practitioners performed traditional Chinese dances, demonstrated the Falun Gong exercises and paraded though the streets of Cambridge. Despite almost continuous rain, around 6,000 leaflets were distributed and a journalist waited in the downpour for a long time to take pictures of the Fan Dancing. A local MP and MEP, as well as the Mayor, wrote letters to express their support for our activities during Cambridge Falun Dafa Week.
On Sunday, practitioners set up an anti-torture exhibition close to King's College and demonstrated several cruel torture methods used to force practitioners to renounce their belief, including the Tiger Bench and Confinement in a Small Cage. (1) Crowds of pedestrians, including many Chinese tourists, soon gathered to take a look at the exhibits and read the display boards. As practitioners explained the facts of the persecution, people shook their heads in horror and disbelief. Many could not comprehend that such brutal means would be used to suppress a peaceful spiritual practice; they were eager to sign the petition to bring former Chinese leader and instigator of the persecution Jiang Zemin to justice. Among those who signed were several professors and a minister from the U.S. One girl said that she had seen practitioners' anti-torture exhibitions in New York.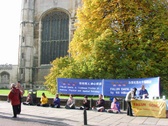 Several new practitioners took part in the activities, distributing leaflets, demonstrating the exercises and gathering signatures. On Sunday, a student of documentary photography spent the day documenting the exhibition for a project and talking with practitioners.
(1) For a detailed description of these and other forms of torture used in forced labor camps, see http://www.clearwisdom.net/emh/articles/2001/11/24/16156.html
http://www.clearharmony.net/articles/200410/22726.html