Calamities in China: Hail the Size of Eggs in Jiangsu Province and Disasters in Shanxi Province that Have Not Appeared in One Hundred Years (Photos)
(Clearwisdom.net)
China has many things going on right now. News websites are full of reports of natural calamities and man-made disasters. While different provinces have different disasters, they are always tragedies involving such things as homelessness, home destruction and bankruptcy, or life and death situations, families being torn apart, and parents bidding farewell to their dying children. So much bad news in rapid succession makes people numb. Yet those who must personally endure these tragedies have very painful lives ahead of them.
Jiang Zemin's Hometown Has Incessant Disasters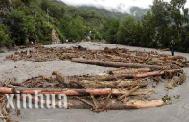 Yangtze Evening News reported that Northern Jiangsu Province was raided by hurricanes, tornadoes and hail during the night on July 19. The damage to the area was extensive. Rainfall reached up to 130 mm in some townships. The wind blew fiercely. The strong winds were accompanied with lots of hail, some of which was as large as eggs. Province Flood and Drought Commission reported that this weather event has caused damage in 11 counties within six city areas including Lianyungang, Huaian, Suqian, Yancheng, Yangzhou, and Xuzhou.
At 2:20 p.m. on July 19, a hurricane hit West Songji Town of Huaiyin District and Shunhe Town of Chuzhou District in Huaian City, Jiangsu Province. It lasted for two to three hours and the wind blew at gale force. Within Shunhe Town, storm was accompanied by lightning and rainfall of 133.5 mm over 3 hours. Eyewitnesses reported big trees over large areas had snapped or been uprooted. Some houses collapsed and roofs were blown away. Fortunately, there were no causalities. That afternoon, Guannan County at Lianyungang was raided by a tornado, hail, and high winds. The hail was as big as eggs. The storm lasted for two hours. In addition, the hurricane and the hail also caused damages to many houses, trees, crops, and freshwater husbandry in many areas such as Zaohe, Shuangzhuang, Qingyang, Xiaodian of Suqian city and Baoying of Yangzhou.
Shanxi Sustains Catastrophes Not Encountered in One Century
Channel Shanxi of Xinhua News wired on July 27: On July 25, some counties and districts of Datong City encountered rare and huge hailstorms resulting in flooding. Six people died, thousands of hectares of crops were destroyed, some water utilities and installations were damaged, and the monetary loss was in the tens of millions of Yuan. Among them, Datong County, South Suburb District, and Yanggao County were the worst hit regions.
Catastrophes Not Seen in One Hundred Years
According to the City Meteorological Station and the City Flood Control Center, the rain started at 6:20 a.m. and ended at 7:20 a.m. Within one hour, the city area and Datong County collected rainfall of 16.2 and 14.4 mm. Yu River and Shili River flowed at 500 cubic meter/second and 150 cube meter/second.
Datong Evening News reported that on July 26, the flood had not receded at Jule township of Datong County. Along the river to the north, all one could see was drowned crops and willow trees that were skinned by the stones and sands that were washed up by the floods, some were even uprooted. The City Flood Control and Datong County officials said that one thousand hectares of crops were damaged at Jule community, many water utility installations were flooded and destroyed, and the loss amounted to more than ten million Yuan.
Elderly people at Jule Village recollected that such a big flood was only seen in 1937, i.e. 66 years ago. Based on the preliminary statistics, Datong County sustained losses of 35 million Yuan. Xinwang Township, Gudian and Yugang Town at the South Suburb suffered flooding of 133 hectares of vegetable fields, with a loss of 10.95 million Yuan. Yanggao County was also damaged by the flooding and 200 hectares of arable lands were flooded. The direct economic loss is 4 million Yuan.
Hail Smashes Farmer's Hope
In the morning of July 25, some areas were hit with hail that had a diameter of 2 cm; there was 30 cm of accumulated hail at the thickest. The hail lasted 15 minutes. 69 villages of 5 communities including Beijiazhao, Xiping, Jule at Datong County were hail-raided. In the county, 7,333 hectares of crops were damaged and 2,067 hectares were totally out of harvest. In 16 villages at the South Suburb District, 667 hectares were hailed out. At Yanggao County, 1,400 hectares were damaged by hail and 800 hectares were out of harvest. Hail caused direct economic losses of 10 million Yuan at these three county and districts.
Mysterious Deaths
In this sudden natural disaster, six villagers died in the floods with no time for precautions. In Jule Village, four people died and two women sat on the bed while the flood poured in from doors and windows. After two walls toppled, the flood flushed away the two women instantly. Finally, one body was recovered a dozen miles away in Yanggao County. A 74-year-old man was also killed when he tried to withstand the tides from entering his home. Two villagers at Sikou Village of Yanggao County were also flushed away and drowned in the river while grazing their cattle.
In addition to the drowned villagers, eight people at Jule Village were also injured in the flooding, and three pastors were stranded in the river when the Yu River was flooded.