Southland Times (New Zealand): Four On hunger strike
July 9, 2003
By William Morris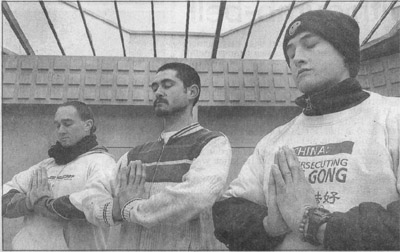 Four Falun Dafa followers are staging a three-day hunger strike in Invercargill.
The four men will be moving around Invercargill distributing leaflets and asking for signatures to a petition denouncing the oppression of Falun Dafa follower in China.
In 1999, former Chinese president Jiang Zemin made the practice illegal, instigating the detention of up to 100,000 people in labour camps.
Stories of beatings and torture and reports that hundreds had died in custody caused a global outcry, but there had been no policy change in the communist nation.
"There's lot of people who don't know the situation in China," protester Mike Murphy said. "It's pretty appalling,"
Mr. Murphy of Gisborne has been practising Falun Dafa or Falun Gong for three and a half years.
"It's a cultivation of the mind and body," he said.
Mental and Physical health and energy could be improved by using the movements, meditation and teachings, which are practiced by as many as 100 million Chinese.
Fellow protester Chris Thomas, also from Gisborne, said they were trying to raise awareness of the plight of its Chinese followers.
"We want to make people aware of how concerned we are about it." he said.