"Canada, Let's Keep Up Our Efforts!" Car Tour Starts Journey on February 20th (Photos)
(Clearwisdom.net) On February 20th, the "Canada, Let's Keep Up Our Efforts!" Car Tour initiated by Falun Gong practitioners in Canada and the Global Mission to Rescue Persecuted Falun Gong Practitioners started its first day's journey.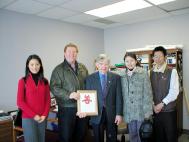 New Tecumseh Mayor Mr. Keogh and Falun Gong practitioners posing for a group photo
The "Car Tour" team comprising of five practitioners first arrived at New Tecumseh, Ontario. Mayor Larry Keogh and Deputy Mayor Rick Milne warmly received us. When we expressed our heartfelt thanks for the help and support they had given us, Mayor Keogh earnestly said, "I am very concerned about the Falun Gong practitioners who are still imprisoned in China. I think everybody should stand up and help rescue Falun Gong practitioners persecuted in China." He also said that he had met with Falun Gong practitioners at a meeting organized by Friends of Falun Gong, and the practitioners' warmth and kindness had left a profound impression on him. We made a request to Mr. Keogh, hoping that he could convey our wishes to the Canadian Prime Minister and Foreign Minister to propose a resolution asking the Chinese government to stop persecuting Falun Gong practitioners during the human rights conference in Geneva during March. Mr. Keogh agreed readily and said that he would initiate a resolution at the Council meeting to do so.
Falun Gong practitioner Qiu Nannan expressed our most sincere gratitude to the mayor on behalf of her father, her younger brother and other Falun Gong practitioners who were rescued by the Canadian government from a forced labor camp, and presented him with a certificate of appreciation designed and made by practitioners. On the certificate was the practitioners' paper-cut out design of the word "Compassion." As he accepted the certificate, we saw that his eyes were moist.
Reporters from NTR TV and a local newspaper came for interviews, and the Mayor gladly participated. He said: "The principle of Truthfulness-Compassion-Tolerance should be upheld and observed by humanity. Persecution of the people following this principle should absolutely not be allowed."
Later, we arrived at the cities of Collingwood, Midland and Orillia. Collingwood's Assistant to the Mayor, assistants of Members of Parliament and Members of Provincial Parliament warmly received us. After listening to the purpose of our visit, they happily accepted the lotus flowers we had made and expressed that they would certainly convey our request to the Mayors and MP's. They also asked for our contact information so that they could send us copies of the letter they would write to the Prime Minister and Foreign Minister. A reporter from the Collingwood newspaper "Connection" also interviewed us about the goal of our trip and expressed that they would send us a copy of the article when it is published.