Australian Falun Gong Practitioners Who Were Beaten and Arrested in Beijing for Appealing for the Practitioners Tortured in China Are Sent Home
November 23, 2001
At 11:30 a.m. local time on November 22, 2001, three Australian Falun Gong practitioners who participated in the Tiananmen demonstration arrived at Sydney international airport. Nearly 60 Sydney Falun Gong practitioners with fresh flowers in hand welcomed their arrival in a grand ceremony. Afterwards they held a press conference in front of the Chinese consulate in Sydney. Reporters from Australian ABC radio, the SBS national television station, Sydney Morning Herald, Reuters, Australian Associated Press, Independent Express and Epoch Times attended the press conference and delivered on-the-spot coverage.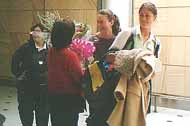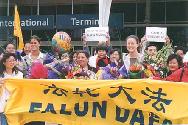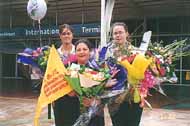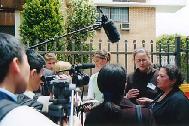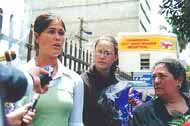 The 4 Australian western Falun Gong practitioners who participated in the Tiananmen appeal are Mr. Chris Cominos, a real estate agent from Melbourne, Miss Kate Douglass, a university student, Ms. Kay Belonogoff, a manager in a computer programming company in Sydney, and Ms. Myrna Mack, the manager of a furniture shop.
The three female practitioners gave short speeches, respectively, and described the process of their sitting and being arrested in Tiananmen Square and expelled forcefully. They said that at 2:00 p.m. Beijing Time on November 20, 2001, 36 western practitioners from 12 countries, including Britain, Germany, France, US, Canada, and Australia sat cross-legged after taking a group photo. However, within a few minutes after they unfurled a banner reading "Truthfulness, Compassion, Forbearance" and sat cross-legged, police swarmed over them and dispersed them forcefully. Ms. Belonogoff was harshly dragged into a police van. Ms. Mack's shirt, which she displayed at the press conference, was torn by police. For refusing to board the police van, Miss Douglass was forcefully carried and dragged into it. Mr. Chris Cominos, whose ancestry is partly Chinese, was beaten and kicked while being pushed into the police van. The bruises and cuts on his arms, back and palm are still clearly visible. Ms. Belonogoff said that hundreds of Chinese onlookers were stunned with eyes opened widely by the scene.
After being rounded up, they were taken to a police station near Tiananmen and detained in a crowded and dirty jail. Police pushed down two female practitioners from the second floor stairs, resulting in them rolling down to the first floor. At least 5 female practitioners were sexually harassed. Afterwards, they were taken to a hotel and locked in a conference room. Their cellular phones were forcefully taken away. Each practitioner was watched by at least two policemen. They were followed even going to restroom and ordered to keep the door of the restroom open. They spent the night sitting on chairs.
What surprised them more is the extent to which the Chinese people are deceived by the Jiang Zemin regime's propaganda. Ms Kate Douglass said that when she told the police that Falun Gong practitioners are worldwide in over 40 countries and Zhuan Falun has been translated into 17 languages with more on the way, they thought she was deceiving them. The police said that Jiang Zemin's Government told them Falun Gong had been banned in every country. When being asked which law had been violated for holding the banner reading "Truthfulness, Compassion, Forbearance," the police said that the three words were against the law in China. It was very inconceivable to the western practitioners.
After 24-hours in custody, the 36 western practitioners were expelled and were warned that they were not allowed to reenter China for 5 years.
Ms. Belonogoff said that she did not know the other 35 practitioners before going to Tiananmen Square. In line with a petition to the Chinese leaders to end the atrocities and the terrorist actions against Falun Gong practitioners for the last two and half years, and calling on the Chinese people to treasure their traditional culture and virtue, they came together from different countries.
"In the police van, we put our heads outside the car and shouted in Chinese with all our strength, 'Falun Dafa is good' for more people to hear our voices from the bottom of our hearts," said Ms. Belonogoff.
Ms. Mack explained why she wanted to go to Tiananmen to appeal. "In China, thousands of Falun Gong practitioners are imprisoned without trial. Those not imprisoned have also been persecuted to various degrees. Female practitioners are being sexually harassed or raped in labor camps. The pregnant practitioners have been forced to have abortions. Many people were tortured to death. The severe infringement of human rights by Jiang Zemin's regime is far beyond our comprehension." She said, "We cannot understand that in the current world those inhumane atrocities which could only be found in the dark ages, are occurring. Jiang Zemin wants to eliminate Falun Gong. As a result, the good people are being persecuted. Following the principle of "Truthfulness, Compassion, Forbearance" is not a crime. The world would be too dark if Jiang Zemin can succeed." She said at last, "I think it is my responsibility as a western practitioner to tell people, 'Falun Dafa is good. Falun Dafa is everywhere."
One practitioner from China who was imprisoned in a labor camp in China for one year gave a short speech.
After the practitioners' speeches, the reporters interviewed the western practitioners and asked many questions.