SOS! Global RescueWalk from Sydney to Brisbane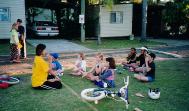 Kate Douglas, "When I arrive at the camping site, I feel exhausted so I sit down and start meditating. I still could hear children running about around me. When I open my eyes, I see 8 children sitting in front of me with legs in lotus position. They look like they are from poor families. Their clothes are dirty. However it seems they all know what I am doing and all are eager to learn the exercises. Even though they are very young, they already feel the peacefulness and beauty of Dafa. Three girls stay with me for one and a half hours and finish all five sets of exercises until it gets dark. The dinner is ready and I am very hungry, but I know I have to stay. I have to finish the exercises. It is the best present I could give to the children."
A school principal invites us to visit her school and introduce Dafa to her students. The media also comes to interview us. Everyone in the school welcomes us. Deep in their hearts, they all feel that practitioners are so special and respectful. They offer us fruits on a silver plate like treating honored guests. The teacher tells the children about Falun Gong, our walk and the principle of Truthfulness-Compassion-Tolerance. She says such a peaceful practice is being suppressed in China, practitioners are arrested and beaten and even lost their lives and that there are still such unfair things happening in the world. Then we demonstrate the exercises. Everyone starts to follow. One girl tells us when she does the third set of exercises with her eyes closed, she sees another her practicing.
When we pass the town of Tween Head, it happens to be a celebration day in the town. There are many exhibition booths and visitors. We talk to the organizers and they agree at once to give us the center area to demonstrate Falun Gong. The beautiful exercises attract all the people and everyone gets a Dafa flyer.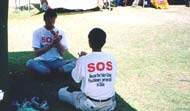 Chris meets us in a small town while we are passing. He is very interested in Qigong but has very little understanding of Falun Gong. He is deeply touched by the benevolence of practitioners and is saddened by the brutal persecution of practitioners in China. He learns the exercises while we spread Fa in this small town. He also joins our SOS! RescueWalk team.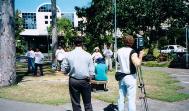 In Coffs Harbor City, the Channel 9 TV station interviews practitioners and the program is broadcasted in the evening news. Thousands of Australians hear about Dafa and learn how evil Jiang Zemin's regime is.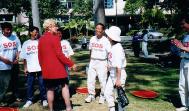 The mayor of Coffs Harbor comes to meet and encourage practitioners.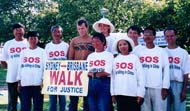 The deputy mayor of Byron Bay meets practitioners in a park supporting the SOS! RescueWalk and wishing us success.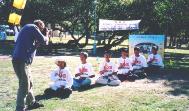 Reporters from two newspapers of Byron Bay come to interview practitioners.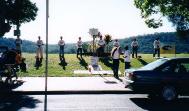 Spreading Fa and clarifying the truth along the route at Town of Maclean.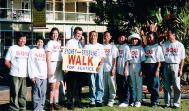 On September 24 two practitioners met a lady while distributing flyers. The lady asked, "Two days ago I saw you walking along the highway in the same T-shirts. I would like to know why you are walking." The practitioners handed her a flyer. After reading the flyer, she said that Falun Dafa promotes 'Truthfulness-Compassion-Tolerance' and it is wonderful. She told us that her husband is the city mayor and she hopes he also knows Falun Gong.
In the afternoon we practice in a park. The mayor cancels his appointments and comes to the park with his wife. He suggests that we should contact all the school principals we come across and introduce Dafa to them so younger generations could follow the principle of Truthfulness-Compassion-Tolerance and become good people.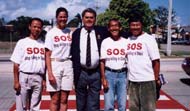 We arrive at the City Hall of Ballina on the first day of new mayor Mr. Peter Moore. Mayor Moore meets with practitioners and then asks the deputy mayor to introduce Falun Dafa and the SOS! RescueWalk at the city government meeting.
Sending forth righteous thoughts at the same time with practitioners around the world.