Excellent Teacher Pan Xujun in Critical Condition after Seven Years in Prison (Photo)
(Clearwisdom.net) Pei County 610 Office agents illegally arrested Mr. Pan Xujun, an outstanding teacher, in September 2002. He worked at the Pei County No. 1 Middle School in Jiangsu Province and was arrested for his belief in practicing Truth-Compassion-Forbearance. The Pei County Court sentenced him to nine years in prison in 2003, despite lack of evidence of any wrongdoing. Mr. Pan has been held at Hongzehu Prison in Jiangsu Province for more than seven years, where he was savagely tortured. His life is in danger.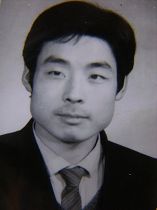 Falun Gong practitioner Pan Xujun
Pan Xujun's family went to the prison and requested his release, but prison officials told them, "If he ends his hunger strike and gives up Falun Gong, we'll let him go home right away." His family has nowhere to turn, because the court does not want to have anything to do with them.
Freedom of belief and freedom of speech are basic rights protected under China's constitution. The communist regime has signed international human rights pacts that also guarantee such rights. We want to shed light on Pan Xujun's ordeal in the hopes that the people of the world will join together to help end this ruthless persecution.
Pan Xujun is 43 years old. As soon as he began practicing Falun Gong he was cured of numerous illnesses. He taught Falun Gong to his students, and their grades quickly improved. After the persecution of Falun Gong began, the police arrested Pan Xujun in December 2000 and held him in a custody center and a brainwashing center for one year. His school was forced to pay money to the 610 Office. Pan Xujun's salary was withheld.
Mr. Pan Xujun and practitioners Wang Xinchun and Cao Houcun left the brainwashing center on December 14, 2001 and lived a homeless life in order to avoid being arrested again. 610 Office head Chen Yong led several police officers and arrested the three practitioners and sentenced them to long prison terms.
At Hongzehu Prison, Pan Xujun refused to renounce his belief. The guards instructed inmates to verbally and physically abuse him. They poured cold water on him in the winter. He refused to the wear prison uniform, in protest of his illegal detention. They poured fresh paint on him. The inmates also tried to suffocate Mr. Pan. Between 2005 and 2007 the guards regularly and violently abused Dafa practitioners through corporal punishment, savage attacks, dragging the practitioners on the floor and "strict control;" other methods were also used. Section 1 political head Hu Juqiu often told inmates Bi Dongsheng and Jia Lianggui to hit Pan Xujun with broomsticks and wooden boards; Pan Xujun's hands swelled like balloons due to the constant abuse.
Pan Xujun has sustained severe mental and physical trauma over the past seven years. He has been on a protest hunger strike for more than 70 days and is extremely frail. His mother is in her late 60s; his wife and young daughter worry about him all the time.
Yang Jinchao: group head at the Hongzehu Prison Brainwashing Center, 86-13815763168
Pei County 610 Office agents: Chen Yong: 86-15852228989; Zheng Jian: 86-516-89656589; Zhang Jizhou: 86-13056267889; Yan: 86-516-89669257

Jiangsu Legal News
No. 101 Wenhui Mansion, Caochangmen Street, Nanjing City, Jiangsu Province 210036
News Division: 86-25-86261510
Politics and Law Division: 86-25-86261566
Reporters Division: 86-25-86261504
Chief Editor's Office: 86-25-86261536
News Division Hotline: 86-25-86261512, 86-25-86261511 (fax)