Canada: Falun Dafa Day Celebration in Montreal (Photos)
May 12, 2009 | By Xiao Yan
(Clearwisdom.net) The 10th World Falun Dafa Day will be on May 13, 2009. Falun Dafa practitioners in Canada held a grand parade in downtown Montreal and a rally in Chinatown. They celebrated the 17th anniversary since Falun Dafa was first introduced to the public in China and the 58th birthday of the founder of Falun Dafa, Mr. Li Hongzhi.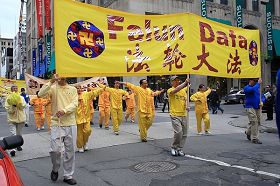 Falun Dafa practitioners in Montreal celebrate the 17th anniversary since Falun Dafa was first taught in Changchun, China.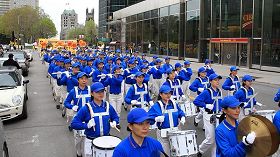 The Divine Land Marching Band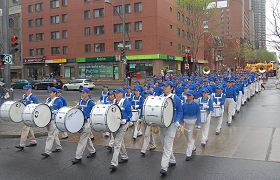 The Divine Land Marching Band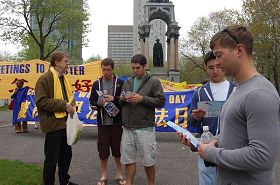 Passersby read fliers to understand the facts about Falun Dafa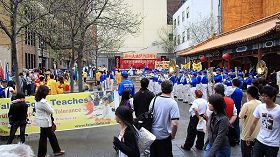 The rally in Chinatown celebrated World Falun Dafa Day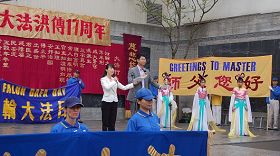 The rally in Chinatown celebrated World Falun Dafa Day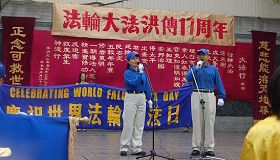 Practitioners sing in celebration of World Falun Dafa Day and the birthday of their Teacher, Mr. Li Hongzhi.
It's been 17 years since Mr. Li Hongzhi first taught Falun Dafa in China on May 13, 1992. Mr. Li pointed out a path to return to one's true self and to cultivate one's heart with Truth-Compassion-Forbearance.
Falun Dafa has miraculous effects in improving people's health and bringing out the goodness in people's hearts. Before the persecution started on July 20, 1999, 100 million people practiced Falun Gong in China alone. Over the past ten years, practitioners have been persevering in calling for an end to the persecution in a peaceful manner. As of today, Falun Dafa is practiced in over 100 countries and regions in the world.
To celebrate the introduction of Falun Dafa to the world, May 13th was designated "World Falun Dafa Day" in 2000. This year, practitioners will be celebrating the tenth World Falun Dafa Day.
Practitioners in Canada and around the world celebrate this joyous occassion. They want to convey their gratitude to Mr. Li for his compassionate salvation and bring the beauty of Falun Dafa to more people.
Parade Downtown Delivers the Good News
The festive parade began at noon, starting out from the Place du Canada. It followed St-Catherine to St-Urban, Notre-Dame and St-Laurent and ended in Chinatown. Crowds during lunch time were drawn to the grand parade. They stopped and watched attentively.
The Divine Land Marching Band played "Falun Dafa Is Good," "Fa Drums and Fa Trumpets Shake the World of Ten Directions," "Fa Rectifies the Universe," "Deliver the Treasure," and "Holy Law-Wheel King." Passersby along the parade route clapped, cheered, and took pictures with their camera phones.
The quiet and peaceful Falun Dafa exercise demonstration delivered information about Falun Dafa in a unique way. The Waist Drum Team and Celestial Maiden Team spread messages of righteousness and beauty. In the last section, practitioners peacefully protested the persecution in China and called for people of justice to help stop the persecution.
Celebrating Teacher's Grace in Chinatown
In Zhongshan Park in Chinatown, practitioners sang in a chorus and a duet, recited poems, and performed the waist drums. They wanted to convey their gratitude for Teacher's compassionate salvation. Many local residents in Chinatown came to enjoy the performance. The festive atmosphere covered Chinatown.
Many new practitioners joined the celebration as well. One of them was an elderly man. Before he practiced Falun Dafa, he had cancer and was very weak. He couldn't stop his hands from trembling. The first time after he did the Falun Dafa exercises, his hands stopped trembling. He thought it was unbelievable.
All the Falun Dafa practitioners wished their Teacher "Happy Birthday!" The celebration ended at 3:00 p.m.