Politicians Amazed by DPA Show (Photos)
January 09, 2009 | By Minghui correspondent Wang Zaiyu
(Clearwisdom.net) The Divine Performing Arts (DPA) 2009 World Tour wowed audience members at its first-ever show in Kitchener-Waterloo at the Centre in the Square Theatre on Tuesday, January 6, 2009. The extravagance of five-thousand-year-long classic Chinese culture and art won high praise of the audience, including many local politicians.
Civil/environmental engineer and City Councilor Ms. Freeman said, "I have been learning quite a bit! I have been learning about the history of dance and history of the Chinese culture and some of their spiritual choices."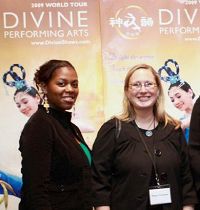 City Councilor Ms. Diane Freeman (Right)
Ms. Freeman especially appreciate the music in the show. She praise the vibrant colors and said, "I liked the dance with the skirts, the colorful skirts! They're amazing! I find it so relaxing to watch! It was great!"
Freeman's niece especially liked "The Udumbara's Bloom." She commented, "The dancing was fantastic! I liked the flowers unfolding--the flower that only blooms once in 3000 years. It was a very beautiful dance! I have learned a lot and am happy that it was brought here today!"
"I think it was fantastic," said Mr. Olender, a city councilor of a township in Ontario. "It was a good mix of what the culture is, what the history is, and what the hope for the future is. I thought it was just superb."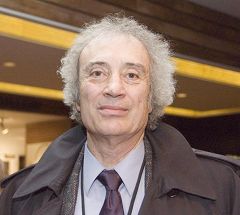 City Councilor Jim Olender
"I really noticed the energy in the male performers--they had so much energy. And when you watch the female performers it was strictly elegance and beauty and grace. So there was a contrast there. I thought it was fantastic.
"He said that the unique state-of-the-art digital backdrops, "fit right into what they were doing. It really highlighted everything. You knew exactly what was going on, why they were performing what they were performing and how it related to the past and present and everything."
"It was one heck of a great performance. My wife enjoyed it, I enjoyed it and I would recommend anyone else to come and see it."
City Councilor Mr. Roe is also a Professor Emeritus of System Design Engineering at one of Canada's leading universities known for its technology programs. These programs have led to more business spin-offs than any other university. Mr. Roe co-founded the Department of Systems Design Engineering there. He said, "I thought it was indeed spectacular! There's no question about that."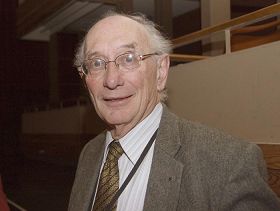 City Councilor Mr. Roe
Mr. Roe liked the backdrop. "The gods coming down from heaven were really quite something!" "I thought the soprano that sang at the beginning was very good. I just liked her big voice," he said. "She probably doesn't need a microphone to fill this hall." He commented that the two MCs that introduced each act did a great job of making sure the audience understood the cultural dances and legends they were about to see.
"This is a show when it comes back to Kitchener-Waterloo its worth coming to see." Mr. Roe said he was glad he could make it to the show and encouraged his constituents to come as well.
City councilor Ms. Whetham heard about the DPA show from local media and went to see it. She said that learning about China's past and present was a great aspect of the Divine Performing Arts (DPA) show. Ms. Whetham said this was her first time seeing a Chinese cultural show and she felt that the DPA did a great job in portraying aspects of China unknown to her. "It gives a new awareness of the history of China. It is very educational."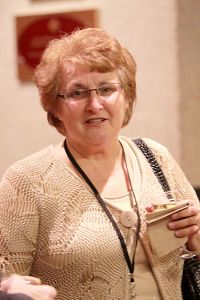 City Councilor Ms. Whetham
Aesthetically, she was impressed with the brilliant costuming and DPA's unique digital backdrop, "It's lovely, the costumes are beautiful--the colors and beautiful materials and the head-dresses of the girls. The background scenery is beautiful, lovely. It's nice, it's almost like the people are part of the show and then they disappear up into the scenery."
And the music, she said "fits in lovely. The soprano [Pi-ju Huang] is beautiful--beautiful voice."
Ms. Whetham expressed his thanks to the show for telling people about what is happening in China. She had heard about Falun Gong before but she didn't realize that the persecution was so bad. She thought that the program about Falun Gong was very educational.
City Councilor and former mayor Ms. Brewer said Divine Performing Arts portrayed "Hope for the future" "I thoroughly enjoyed that," she said. "The music was enjoyable, to watch the scenery--super, and the beautiful colors made it a super night, just super."
She said she thoroughly enjoyed the mix of music, song and dancing, combined with the unique animated backdrops. "Tonight was just such a good evening ... The music and dance interpreted everything that was on the stage tonight ... I liked the colorful spring flowers, it was colorful, just colorful."
City Councilor Ms. Scian said, "I thought it was incredible! I thought it was beautiful! I thought it was informative! It made you think and I thought it was a really an exciting evening," she said following the show.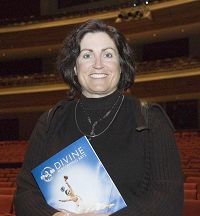 City Councilor Ms. Scian
"It did a beautiful job of illustrating the history of China and how things have evolved so beautifully," she said. "The look on the faces of the performers was really astonishing. They feel really strongly about it, so that was nice. You can see that they are enjoying their performance. It is something they truly enjoy and sharing the mission that they have and the picture that they show us. That was beautiful!"
Ms. Scian added that she really enjoyed the cultural characteristic of the show and that it really helped her understand the length and depth of Chinese history. "They have been through so many changes, compared to what we have gone through in North America."