Los Angeles: A Marketing Manager from EMI, "I Wish We Could See the Show Over and Over!" (Photo)
(Clearwisdom.net) Divine Performing Arts (DPA) International Company staged the first of eight shows at the Pasadena Civic Auditorium in Los Angeles on the evening of December 30, 2008. Mr. Ben Hernandez, a marketing manager in Electrical and Musical Industries Ltd (EMI) with its headquarters in London, and an avid theater and opera lover, thought the show was "absolutely fabulous!"
An Absolutely Fabulous Show
When a reporter asked Mr. Hernandez what prompted him to attend the DPA show, he replied, "I like cultural events and I like these types of traditions. When I got information from this theater about this show, I said, 'Oh, beautiful!'Plus the ads on TV looked so pretty--the beautiful montage that you used. So that was very well done."
He continued, "I have seen so many plays and operas, but I thought this was just a beautiful show, plus it had a lot of meaning. The pastels and the costumes and the singing--it was just absolutely fabulous!"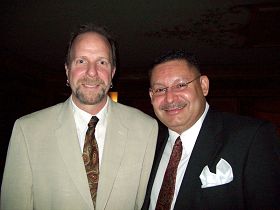 Mr. Hernandez (right) and his friend
"It was very well done!"
Mr. Hernandez said it was hard to say which dance he liked best. "To me it's kind of difficult to pinpoint which dance. There are so many multiple dances, and not just the choreography and the color, but also the meaning of what the Chinese people believe in. So I would say that I liked all of it equally well. Very beautiful. Also, it's nice that you have breaks. You can hear different kinds of music, like soloists. And that brought different meaning to the whole program."
In his opinion the show touched on a wide and varied range of emotions. "Each particular piece--whatever they were showing--has a different emotional appeal: about peace, about kindness, what you need to do with your life, about hope, about faith--all those mixtures of feelings that you have within yourself. I do believe that it was very well done."
He felt very fortunate to be able to experience authentic Chinese traditional culture, saying, "You are keeping within the tradition of your country and bringing it back to people like us, who are unfortunately not drenched in that tradition. So for us to be able to sit here and see it--a little tiny percentage of what the culture is saying--is so beautiful. I mean, I wish we could see it over and over! Every night would be a different presentation. But it was very well done."
"The Chinese Are Losing Their Traditions in China"
"You know, everything is so mythical about this Chinese culture, and after seeing this "Spectacular" show, you feel a little more acquainted with what the culture is all about, about the Chinese people. In a way you can visualize the essence within the spiritual part and how the show can transform and promote that essence in the future, and within in their own tradition. Sad to say, but like the lady said, the Chinese are losing their traditions in China," he said.
Mr. Hernandez is not without hope, however. He believes that the DPA show is very capable of reviving ancient Chinese traditional culture. "Something this wonderful--and you are able to capture that, and maintain and retain that--so future generations, everybody's kids, will be able to see this beautiful culture of China."
When asked if he would consider coming back to next year's show, he enthusiastically replied, "It was very well done. Yes, I definitely will come back! Like I said, it is beautiful. It's just a very small percentage of what the culture is all about. So every year I am sure it will be different. The color, the blossoms, the girls, the inferences to the future... You know, it's just beautiful, just beautiful. I do believe that the entire performing company did a wonderful job!"