Indonesia: Practitioners Hold Parade with the Theme, "Move Forward with Falun Dafa" (Photos)
January 05, 2009 | By a practitioner in Indonesia
(Clearwisdom.net) On December 28, 2008, Falun Dafa practitioners on Bali Island of Indonesia held a parade which began with an event in front of the memorial for martyr Gusti Ngurah Rai. The theme for the parade was, "Move Forward with Falun Dafa."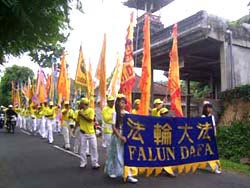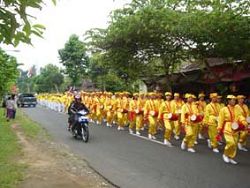 Falun Dafa practitioners' procession
At 8:30 a.m., Wayan Subawa, secretary general of Badung Regency, made opening remarks at the event, and expressed his strong support. He said that Falun Dafa's positive activities should be spread to other regions. In addition, he thought that the righteous field of Falun Dafa would bring a positive effect for the region.
The starting point of the event, the Gusti Ngurah Rai memorial, has significant meaning for Indonesians. The parade route then passed by seven villages, each of which responded positively to the Falun Dafa procession.
The waist drum team led the procession, and the practitioners distributed flyers to villagers. After the parade, the Minghui School students' chorus sang "Falun Dafa is Great," "Master, Thank You," "Awake from a Dream," and "Coming for You." They also performed the lotus dance and the ribbon dance.