San Francisco: Audience Appreciates the Traditional Culture in DPA's Shows (Photos)
January 15, 2009 | By Minghui reporter Huang Kaili and Wang Ying
(Clearwisdom.net) The Divine Performing Arts (DPA) International Company held seven shows from January 7 to 11 in San Francisco. About 17 thousand people attended the performance.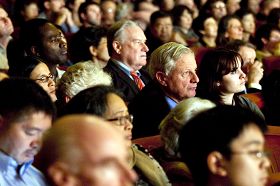 Mr. Yuan, a professional musician from Mainland China, was deeply impressed by the show. He said: "The show is very professional and well organized." "I've never seen such a good combination of Chinese and Western instruments," said Mr. Yuan, who used to be a director of a Chinese orchestra in China, "My daughter kept praising it. We never saw such a good show in America."
Ms. Wu Rihua, a Chinese woman who came to the US a year ago, was happy to see the traditional Chinese culture. "As a Chinese, I am happy to see the traditional culture," she said, "You cannot see it in China now."
Carl Dudley, a professional tenor, used the word "very" many times to describe the show. "Very beautiful, very professional; the dancers' movements were very graceful; the contents of the songs were very profound and the vocalists are very talented," he said.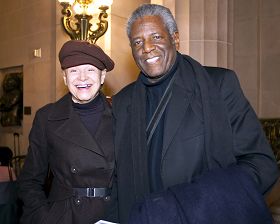 Carl Dudley and his wife Lucy Agee
Carl said the show made him think. He said believing in God can help people to find truth. He said we are in the cycle of reincarnation, and what we do now will influence our next lives, so being a good person is important, and we should strive to be better.
Speaking of the program about the persecution of Falun Gong in the show, he mentioned the persecution of Christians in history. He said history is repeating itself, the truth will be exposed and righteousness will prevail over evil as long as we don't give up.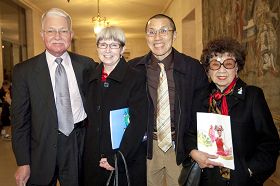 Ms. Bai Lixin [right], her son Alvin Low, and her friends at the Spectacular in San Francisco
Ms. Bai Lixin, a retired Chinese dancer and sponsor of the Chinese Dancing Culture Center, praised the show. She has performed at City Hall many times.
She is proud of the dancers and their efforts to present such a wonderful show.

"I enjoyed it very much. ... We very seldom see this kind of performance in the United States, and I was really glad that more and more Chinese culture [is shown] to Westerners, which is wonderful."

"And this show really represents our culture," she said. She also appreciated the traditional Chinese stories performed in the show, particularly Mulan Joins the Battle, a tale in which the heroine Mulan fulfills the twin duties of service to one's parents and one's country.
Information on Shows in Cupertino
Jan 13-Jan 15, 2009
Flint Center for the Performing Arts
With live orchestra!
SHOW TIME(S)
Tue, January 13, 7:30pm
Wed, January 14, 2:30pm & 7:30pm
Thu, January 15, 7:30pm
VENUE
Flint Center for the Performing Arts
21250 Stevens Creek Blvd
Cupertino, CA, 95014