Worldwide Shock and Outrage Over Poisonous Milk Powder from China (Photos)
(Clearwisdom.net) Shock and outrage around the world continues after the revelation of the Sanlu milk powder scandal in China. A large number of infants in many cities in China who have consumed the Sanlu baby formula containing the toxic chemical substance melamine have developed kidney failure, kidney stones, and some even died. People in countries that imported China's dairy products have also suffered adverse consequences.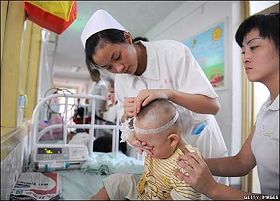 The number of infants in China suffering nephrolithiasis from consumption of poisonous milk powder products has approached 53,000--Some reports state even larger numbers. Chengdu Children's Hospital is treating an infant who has developed kidney stones. (Getty Images)

Chinese authorities have requested hospitals to conduct free checkups for children. A hospital in Chengdu City, Sichuan Province is crowded with parents and their children. (Getty Images)
Number of Victims in China Keeps Increasing
The number of victims in China continues to increase, and hospitals are overcrowded. According to official Chinese regime statistics, close to 13,000 infants who have developed health problems as a result of the poisonous milk powder products have had to be hospitalized. However, Internet users in China claim that officials from the Chinese government at all levels are still covering up the number of victims, and the real number is much higher than the one officially released.
China's Ministry of Health officials have confirmed that the number of infants who developed illnesses as a result of ingesting the poisonous milk powder containing melamine has increased to approximately 53,000. The ministry said that 52,857 have been treated in hospitals. Of those, 12,892 needed longer hospital stays. Of the 52,857 confirmed cases, 82 0f the children are less than two years-old. The new figure of sick infants and children is much higher than what the ministry released earlier, which was 6,244.
Parents in various locations are rushing their children to hospitals for evaluations. Beijing BBC correspondent James Reynolds said that the parents he interviewed were very angry and have lost confidence in the authorities.
Poisonous Milk Powder Scandal Shocks the World
Since the presense of melamine in Sanlu milk powder was discovered, many more incidents of illnesses from toxic dairy products have surfaced, revealing the involvement of more and more dairy producers and their products. Officials from the World Health Organization (WHO) criticized China on September 21 for their failure to immediately inform the international community of the scandal.
According to the BBC, WHO Western Pacific director Shigeru Omi criticized the Chinese authorities for lack of transparency in dealing with the crisis. He hinted that certain individuals were already aware of the problem prior to the outbreak of the crisis. Shigeru Omi said, "Internal communication is obviously a problem; it [the dilemma] was already known for some time, but there was no sharing of information."
Beginning last week, officials in overseas countries have taken emergency measures. In order to protect consumers, dairy products imported from China have been pulled from shelves and were recalled for destruction in Europe, USA, New Zealand, Japan, South Korea, Burma, Malaysia, Brunei, Taiwan, Hong Kong, the Philippines and several African, countries including Tanzania.
Denmark's Arla Foods has Suspended its Joint Venture with China's Mengniu Dairy Co.
Denmark's Arla Foods announced on Wednesday (September 17) that they would suspend their joint venture with China's Mengniu Dairy Co. in Huhhot.
Arla Foods officials released its statement that Mengniu Dairy Co. is Arla Food's partner in China, and that melamine was found in Mengniu Dairy Co. products, in three of the 28 products tested. The problem products will be recalled, and the joint venture between Arla Foods and Mengniu Dairy Co. in Huhhot will be suspended.
Taiwanese Government Recalls and Destroys a Large Quantity of Dairy Foods from China
According to BBC, Taiwanese health department officials have seized and begun disposing of the contaminated Sanlu milk powder. Of the 25 metric tons of the milk powder that was imported, ten tons have already been distributed. Many dairy food products have been ingested. Some of these products have found their way into Hong Kong. The 25 tons of the contaminated product imported to Taiwan through a New Zealand company were packed into 1,000 packages, each weighing 25 kilos. So far, the Taiwan health department has recalled 564 unused packages and started to dispose of them.
Some of the over 400 packages having been distributed were used by farmers for organic fertilizer; others were used by pharmaceutical manufactures to make calcium tablets, and those packages have not been found to be sold as infant formula or regular milk powder, as it has been used in China. Taiwan Health Department officials have traveled throughout Taiwan to find and recall unsold products.
Taiwan Health Department officials said that 665 boxes of Premium Blue Mountain Coffee, which included the toxic milk powder as one of the ingredients, have been exported to Hong Kong, and the Hong Kong authorities were notified about it through relevant channels. Taiwan Executive Yuan officials stated that it is unacceptable that China's officials who are responsible for food safety issues don't monitor the safety of their foods for export, and requested that China should take responsibility for the safety of such items. Following questioning by various entities, Taiwanese government officials stated that Taiwan would not only ban any future import of Sanlu milk powder but all products manufactured by Sanlu. The Executive Yuan officials said that Taiwan would impose strict monitoring on other dairy products imported from China, batch by batch.
Hong Kong Administration Establishes Emergency Legislation
The Hong Kong administration ordered on September 18, 2008 that milk powder importers must stop selling all Yili dairy products and issued a comprehensive recall of all such products. The Hong Kong administration had previously detected melamine in samples of eight Yili dairy products.
Food commissioner Chen Hanyi called on the Hong Kong people to stop consuming the 1-litre carton of Yili high-calcium low-fat milk, which has been detected to contain a melamine level of content 9.9/1000000, unsafe for children under two years old. Daily consumption of two cups of such product is already beyond the allowed daily ingestion quantity. Commissioner Chen Hanyi revealed the latest test results of China dairy products at a press conference last Thursday (September 18).
Another source reports that the Hong Kong Health Department Consumer Protection Center confirmed on September 22 that a boy developed kidney stones after drinking melamine-contaminated milk formula. He is the second diagnosed case in Hong Kong.
The four-year-old boy was born in Hong Kong but has lived in China. His father took him for a checkup on September 23 at Hong Kong Margaret Hospital, and both the blood and urine tests confirmed that he is suffering from kidney stones. The boy was immediately hospitalized and is currently in stable condition. The hospital also treated another 63 patients that same day who have consumed dairy foods contaminated with melamine. Their ages ranged from age two months to seventeen years. None needed to be hospitalized.
In addition, the Hong Kong administration ratified emergency legislation, to ban foods containing more than a certain percentage of melamine. Hong Kong Health Bureau head Zhou Yiyue announced on Monday (September 22) that the relevant law would be published Tuesday (September 23) in the Hong Kong Government Gazette and take effect immediately. Anyone who violates the law could be sentenced to a maximum of five months imprisonment and a fine of 50,000 Hong Kong dollars.
Singapore Government Bans White Rabbit Creamy Candies
Singapore government officials said they have found the third dairy product imported from China containing toxic melamine, which is the popular "White Rabbit Creamy Candies" produced in Shanghai.
Singapore Agricultural Grain and Vet Bureau officials announced late on Sunday (September 21) that a batch of "White Rabbit Cream Candies" from Shanghai has been contaminated with melamine and advised people not to purchase and consume the product.
The Singapore government warned that local retailers and importers must "recall all milk and dairy products from China, and make sure that all products have been pulled from shelves and stop all sales." The government announcement made it clear that the dairy products from China extend to "milk, ice cream, yogurt, cakes, chocolates, biscuits and candies" and "any other food that used milk from China as an ingredient."
According to Singapore's Food Sales Act, people who retail food harmful to people's health could be fined a maximum of 10,000 Singapore dollars or face three months of imprisonment.
According to BBC reports, scientists from Singapore's Food Safety Department had already discovered other items containing melamine before the melamine test on White Rabbit Creamy Candies. Products such as "Yili Fruit Yogurt Ice Lolly" and "Dutch Lady" strawberry-flavored milk produced in China were confirmed to contain melamine last Wednesday and Friday, respectively.
Japan Recalls Snacks Containing Milk from China
According to BBC reports, Japanese Marudai Food Co. has recalled several thousand snack items, for fear of the snacks being made with milk produced in China.
Marudai Food Co. spokesperson said the company is recalling three kinds of snacks including "Creamy Panda" as a precaution because milk provided by the Yili Industrial Group Co. is among the products' ingredients. Milk produced by the Yili Industrial Group Co. in China has also been detected to contain melamine.
The first traces of melamine showed up in infant milk formula in China, but it was soon also found in milk, yogurt and ice cream produced by several well-known dairy producers, including Bright Dairy, the Yili Industrial Group and Mengniu Dairy Co.
Singapore and Malaysia have already stopped importing milk and dairy products from China.
Officials from Burma stated last Saturday that the country would stop imports of anything containing milk powder from China and would destroy the infant milk formula already imported.
One European Union public health spokesperson commented that although the European Union has not directly imported any dairy products from China, in order to make sure the products don't enter the European Union via a third country, they have already ordered its member nations to adopt broader scrutiny. A European Parliament official for public health and consumer protection said that overseas consumers are closely monitoring the ever-widening progress of the poisonous milk powder tragedy.