Pu Dongwei and His Daughter Are Rescued, Now in the US (Photo)
December 12, 2008 | By Minghui reporter Zheng Xinyi
(Clearwisdom.net) After being imprisoned for two years, Falun Gong practitioner Pu Dongwei was rescued recently and is now in the US with his three-year-old daughter and reunited with his wife, Lou Hongwei. Mr. Pu expressed his appreciation to the people and organizations that helped rescue him. He also hoped those same kind people, organizations, and governments will keep up their efforts to help rescue the Falun Gong practitioners still imprisoned in China.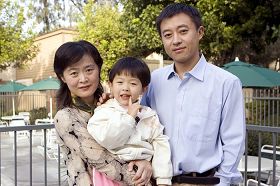 Pu Dongwei, his three-year-old daughter, and his wife, Lou Hongwei
Mr. Pu started practicing Falun Gong in 1996. On May 19, 2006, he was arrested by officers from the Haidian Police Department in Beijing. On August 15, he was sentenced to two and a half years in a labor camp because he had 80 copies of Falun Gong informational materials at home.
His wife, who was in America, and other practitioners overseas have been trying to rescue him ever since.
On August 31, 2006, Amnesty International announced that Mr. Pu was imprisoned and in danger of being tortured.
On September 7, 2006, The European Union Parliament passed a resolution asking the Chinese government to release Mr. Pu, human rights lawyer Gao Zhisheng, and other human rights activists.
In August 2007, eight American congressmen wrote to the mayor of Beijing and the head of Tuanhe Labor Camp where Mr. Pu was being held, expressing their concerns about him. They pointed out in their letter that the incarceration of Mr. Pu was a violation of human rights.
On December 10, 2007, Amnesty International released a press statement calling for a worldwide effort to help rescue Mr. Pu. Amnesty called upon its members to include Mr. Pu in the Write-A-Thon Action and to write to the Chinese government, demanding his release.
On July 17, 2008, Daniel Cohn-Bendit, the co-president of the group Greens European Free Alliance in the European Parliament, submitted a list of seven imprisoned Chinese, including Mr. Pu, to the French president, asking for help.
Mr. Pu said that such international support exerts pressure on the Chinese government because they are afraid of their human right violations being exposed to the international community. When he was jailed, the police told him that even the American government was trying to help him.
Mr. Pu said, "My deepest impression of being in the US is that I have freedom. I can practice freely, which is impossible in China, where people have to pay with their lives for their beliefs. I never thought that I would live overseas. My wife and I always wanted to contribute to our own country. But now, due to the persecution, I cannot go back to my own country," he said sadly.
Mr. Pu said that the persecution is still going on, so he called upon people of justice for help to rescue those still imprisoned in China for their beliefs.