Western Australia: Legislative Council Holds Hearing on CCP Organ Harvesting Atrocities (Photo)
(Clearwisdom.net) The Standing Committee for Public Affairs and Environment under the Legislative Council of Western Australia held a hearing about the organ harvesting atrocities committed by the Chinese Communist Party (CCP) against Falun Gong practitioners. The hearing was held on the morning of September 17, 2007. Canadian independent investigator and renowned human right lawyer David Matas and Falun Gong spokesperson Mr. Erping Zhang gave testimony at the two-hour hearing.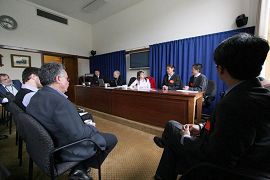 Discussion with politicians and media in the House of Western Australia.
The Legislative Council of Western Australia has begun investigating the organ harvesting atrocities.
That afternoon, the Coalition to Investigate Persecution of Falun Gong (CIPFG) held two sessions of discussion with China human rights and economy experts in Perth. More than one hundred people attended the discussion, including politicians, experts, heads of organizations and people who are concerned about human rights in China.
Human rights lawyer David Matas pointed out that the CCP's violation of human rights is against the Olympic spirit of peace and humanity. He explained how the CCP has harassed both he and Mr. Kilgour since the release of their investigative report. Mr. Zhang talked about the CCP's repression of the freedom of speech with its "Golden Shield" project. Also known as the Great Firewall of China, the project effectively censors Internet communications between China and the outside world.
Dr. Elliot Fan from the Australian National University, pointed out the forged economic statistics of the CCP and the abnormal gap between the rich and the poor in China. He said that other countries should not hesitate to raise human rights issues with China.
Ms. Chen Hong from China related her experience of being persecuted. The Chinese authorities searched her home and confiscated her property five times, and sentenced her to one year of forced labor because she had publicly appealed for justice for Falun Gong. Ms. Chen was subjected to blood testing in the labor camp. The attendees expressed their sympathy and support to Ms. Chen, and praised her courage in publicizing her story.
Council Member Ms. Louise Pratt hosted the discussion and encouraged everyone to participate in the upcoming Human Rights Torch Relay and to speak out for Falun Gong practitioners and the Chinese people under persecution.