CCP's Means of Controlling Oversea Chinese Communities and Infiltrating Mainstream Society Exposed in Canada (Photos)
June 10, 2007 | By Minghui/Clearwisdom correspondent Yong Xin from Ottawa
(Clearwisdom.net) On June 6, 2007, at a press conference in the Canadian Parliament, Mr. Chen Yonglin, former Chinese diplomat from the Sydney Consulate, exposed the Chinese Communist Party's (CCP) means of controlling Chinese communities and media outside of China, in order to infiltrate Western mainstream society and influence the Chinese community through Chinese embassies and consulates. He also discussed the manner in which the CCP intimidates and seduces Western politicians to persecute Falun Gong and other dissidents.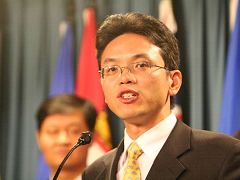 Mr. Chen Yonglin exposes the CCP's means of controlling Chinese communities and infiltrating Western mainstream society
Mr. Chen pointed out that the Chinese Federation of Associations, the Confederation of Chinese Organizations, Peaceful Reunification Association, and other Chinese associations were actually set up and controlled by CCP authorities.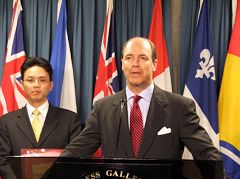 Mr. David Harris, Senior Fellow for National Security with the Canadian Coalition for Democracies, analyzes the impact of Chinese foreign intelligence on Canadian society
On May 1, Jim Judd, Director of Canadian Security Intelligence Service (CSIS), told a Senate committee that around fifteen countries dispatch intelligence agents to Canada. He admitted indirectly that the number of agents from China was on top and half of the efforts of CSIS deal with Chinese agents. Mr. David Harris, Senior Fellow for National Security with the Canadian Coalition for Democracies, and former Chief of Strategic Planning at CSIS, analyzed the impact of Chinese intelligence on Canadian society from three different levels.
CCP places Falun Gong as top issue
Mr. Chen said in an interview that there are political sections in Chinese embassies and consulates monitoring and suppressing overseas dissident organizations, including Falun Gong, Taiwan activists, democracy dissents, and Tibet and Xinjiang activists.
In the press conference, Mr. Chen said, "Chinese diplomacy is actually an extension of domestic policy. Now the CCP mainly deals with Falun Gong because there is a huge number of practitioners, who act unanimously because of their belief." The CCP spends sixty percent of its effort to deal with Falun Gong, and has even set up a special group in embassies and consulate to persecute Falun Gong.
Mr. Chen showed a document from the Sydney General Consulate dated February 7, 2001 with the title, "Task Assignment of Special Group against Falun Gong." The group consisted of the head of each department, including political investigation, culture, visa, Chinese nationals in foreign country, and the education departments. There were concrete assignments and cooperation to suppress Falun Gong. He pointed out that the head of the group was the ambassador or the general consul.
Chinese community and media are used
In the press conference, Mr. Chen said, "In Canada, an organization called the National Congress of Chinese Canadians, NCCC, is the top of the umbrella structure of Chinese intelligence activity. Also, most of the Chinese student associations in the universities in Australia, the US, and Canada actually were set up by the Chinese Education Section and funded by the Chinese overseas mission."
Regarding the overseas Chinese media, Mr. Chen said, "The penetrative control of the Chinese media is quite serious and strong. The media is supported through directed investment and joint cooperation, for example, Australia Singdao Daily."
Mr. Chen gave as an example, how in April 2001, about over 40 Chinese local community organizations petitioned the then-Canadian Prime Minister Jean Chretien and Foreign Affairs Minister John Manley to defame Falun Gong and alleged that Falun Gong damaged China-Canada bilateral relations. The CCP sent the information to embassies and consulates in each country, saying that the Chinese Embassy and Consulate in Canada did a good job and others must learn from them.
Influencing Mainstream Society Politicians through Various Means Including Sexual Blackmail
Mr. Harris said in interview, "China is as renowned as a foreign intelligence service aggressor as it is a police state, and so we know that it is a practitioner of extensive infiltration in Canada and abroad. The infiltration efforts are aimed at a number of objectives including influencing national policy, through compromise, through general influence operations and propaganda, but also through some of the more dirty arts, as we have seen what compromise can amount to sexually and in other terms."
Mr. Chen gave an example of the blackmailing of an Australian Member of Parliament (MP). The MP had sex with a girl under 16 in China. He was immediately detained, recorded and released without any publicity. Later, he actually worked hard and spoke on TV on public occasions for the Chinese government. Mr. Chen said in answer to a reporter's questions, "When the important delegations go to China, they are under strict surveillance and if necessary, the CCP will set some traps regardless of whether the delegations are from Australia or Canada."
Mr. Harris said on this issue, "In China and in some other totalitarian countries, the sex trap methodology is so advanced and very effectively played. It's important as a result to remember that major hotels in China, especially those visited by Western officials, are owned by the People's Liberation Army. These hotels have been wired extensively and effectively to the extent that a few years ago there was a contractual argument between a Western contractor and China. He didn't realize that included in the contract was obligation to infect hotel rooms with wires for bugs and communication. It is quite inappropriate from both a national security viewpoint and from a viewpoint of visiting China. Remember when you are in your most intimate moments in a hotel room in China, you are in show biz."
Chinese Aggressive Intelligence Activity Breaches Canadian Sovereignty
Mr. Harris analyzed the influence of Chinese intelligence to Canada. He said, "Any kind of adverse activity represents a breach of our Canadian sovereignty, and our self-determination, and not least our criminal and other laws. To that extent, it suggests the risk that Canadian laws are not fully run in this country, and that is a profound problem of jurisdiction and independence."
Mr. Harris continued, "It also means that in terms of the constitutional rights of all our citizens, those Canadians, specifically Chinese Canadians who are intimidated by foreign influences under the direction of the CCP, are not able to enjoy all of their Charter rights under our Constitution, and that is a manifestly unacceptable situation.
"Beyond this, there are of course economic and related considerations of basic national health. We know that China has an aggressive foreign intelligence competitive espionage. This then risks damaging the economic wellbeing of the country, compromising trade and other secrets and sensitive information and overall damaging our competitive position in the world."
At the beginning of May, mainstream media including Canadian Press, the Toronto Star, and The Globe and Mail reported on the issue of foreign intelligence. The Globe and Mail stated, "The CSIS director was reluctant to point to any particular source of foreign spies. 'I won't name specific countries,' he said. 'There are maybe 15 countries that would be of interest to us in that regard.' But Colin Kenney, the chairman of the Senate Committee on National Security and Defence, said it was hardly improper to finger China when public reports had referred to the "aggressive" spy program run by the Chinese within Canada."
The Toronto Star report indicated that a Chinese official seeking asylum in Australia claimed that China has several thousand spies and agents in Canada, mainly located in Vancouver and Toronto.
Mr. Chen brought several documents to Canada this time, which he had taken from the Chinese Consulate in Australia. These documents, including those regarding the persecution of Falun Gong and democracy dissidents and monitoring the Australian Tibetan Council, have not been publicly disclosed before.