Taiwan: Tears Show How Deeply Hearts Are Touched by The Divine Performing Arts (Photos)
May 01, 2007 | By Jin Ding
(Clearwisdom.net) On April 21, 2007, The Divine Performing Arts staged its final performance in Taiwan. Beginning on April 7 in Taipei and ending 15 shows and two weeks later in Chiayi, The Divine Performing Arts performed in cities in north, central and south Taiwan. Wherever they went, people offered their praise and applause and were moved to tears. Awakening the kindness and unselfishness of the people of Taiwan, the performers both thrilled and touched their audiences.
The last stop was Chiayi, a city in an agricultural county whose economic and cultural level was not as high as other cities on the tour. Tickets for the show in the 2500-seat National Chung Cheng University concert hall were sold out two weeks in advance. Art circle figures found it hard to believe.
The Divine Performing Arts' first show in Taipei received great praise and to see it was regarded as a rare opportunity. Its renown spread throughout Taiwan. When it was announced that the group would perform in Chiayi, the local people believed without any doubt that they were in for a treat. Important local figures and entire families came to see the two performances in Chiayi.
Miss Chang works in Taipei. She called her mother, who is in her 70s, after seeing the show and told her to go see the performance. Her mother, who generally does not like to go out, said, "Is it really so wonderful? I have seen so many shows in my lifetime." Miss Change said eagerly, "The performance is so wonderful that many viewers were moved to tears. I had tears in my eyes throughout the show."
The performances moved many viewers to tears. It was very common, but those who did not see the show themselves could not understand.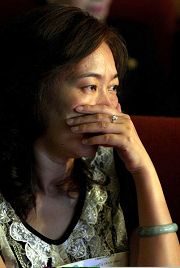 Viewers in Taichung on April 13 had tears in their eyes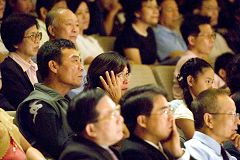 The lady in middle, seeing the show on April 15 in Gaohsing, wiping away her tears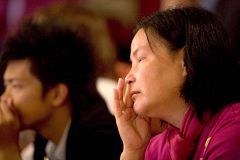 Viewers were moved to tears in the show on April 17 in Taipei
Young City Council member Fu Ta-wei of Chiayi said, "I had tears in my eyes several times during 'The Loyalty of Yue Fei.' The drama reflected my concern for our country's safety, so I was very moved."
Professor Huang Tsui-mei, Dean of the College of Arts, Tainan Art University, said emotionally after watching the show, "Art is a common language among human beings. Its highest level is truth, compassion, and grace. I have not seen such a large scale performance of such diversity for a long time. The show led me to see the whole of our cultural history and to recall old memories. For current students, the show was an inspiration and will lead them to recall their distant memories, perhaps ones before this life."
Taiwan Legislator Chiang Yi-hsing brought his wife, who has had a brain blood vessel hemorrhage, to see the show after hearing many people's recommendations. He said excitedly, "I have never seen my wife so happy. She looked weightless and carefree. I saw she applauded with great enthusiasm."
"The eternal condition of a god is compassion. No program has ever been presented so well," Li Ming-jen, President of Chiayi University, commented about the selection "The Creation." "It is gods' decree to have human beings come to the world in order to spread words from heaven. Humans sometimes don't know the decrees of the gods and commit wrongdoings. A human being following a god is on the right path."
Tseng Kuang-hua, Associate Professor of National Chung Cheng University, said, "The program not only moves people, but also contains deep inner connotations. In the performances, there were very serene parts and also a very active parts. In the serene parts, you could hear the wind, rain, humanity. and divine beings. In the active parts, you got the sense of a running torrent, such as in 'The Loyalty of Yue Fei' and 'Resounding Drums.'" Mr. Tseng thought that the humanity shown in the performances transcended race, history, culture, and all other divisions.
Ms. Chang's 70-year-old mother saw the show on April 21, accompanied by her son and grandson. It was 11 p.m. when they returned home, but she called her daughter right away. "It was so touching that I had tears throughout the show." Her daughter laughed and asked her why. Her mother said, "How could you not be touched to tears if someone found and returned the precious things that you had lost a long, long time ago, even a few generations ago?"