Turkey: CCP's Brutish Acts Exposed at Cag University (Photo)
March 31, 2007 | By a Falun Dafa practitioner in Turkey
(Clearwisdom.net) On March 14, 2007, Falun Gong practitioners in Turkey held an activity at Cag University. Using a projector and narration, they exposed the persecution of Falun Gong by the Chinese Communist Party (CCP) and the inhuman crime of harvesting organs from living Falun Gong practitioners for profit.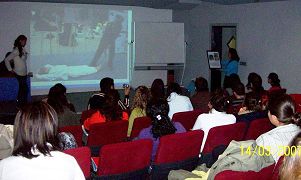 Falun Gong practitioners expose the atrocities of the CCP with projected pictures and narration.
Everyone was shocked by the CCP's atrocities. Many were in tears on seeing the cruel persecution of Falun Gong practitioners. One woman student said in tears after seeing the presentation, "I didn't know there was such a cruel government in the world. What the CCP is doing is brutish!"
One of the organizers of the event is Falun Gong practitioner and English Professor Cansin Goldring. She said they would continue to expose the CCP's atrocities and let more Turkish people know the true story of Falun Gong and the true nature of the CCP.