Famous Calligrapher Liu Xitong in Qingdao City Arrested for Exhibiting His Work (Photos)
(Clearwisdom.net) On November 12, 2007, Falun Gong practitioner and calligrapher Liu Xitong and his wife Liu Aifang were arrested by officers from the Xiangtan Road Police Station in Licang District Qingdao City. The Lius' home was ransacked.

Calligrapher Liu Xitong
From November 3 to 8, 2007, Mr. Liu Xitong successfully held a six-day calligraphy exhibition in the Publishing Art Hall in Qingdao City. Thousands of people visited the exhibition, Qingdao TV Station, Qingdao Morning News, and other media outlets reported on this event. An administrator in Qingdao City stated: "We held numerous calligraphy exhibitions; this is the most successful one." Other administrators told the host that it did a great thing in hosting this exhibit.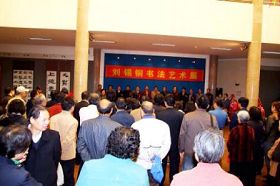 People visiting the exhibit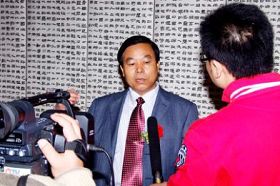 TV Station interviewing Mr. Liu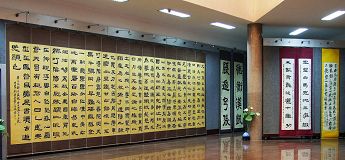 Artwork in the Calligraphy Exhibit

CCP plain-clothes police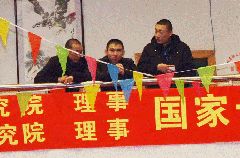 CCP plain-clothes police
The day before the exhibit, the 610 Office and the Political Legal Committee ordered the Public Security Bureau and Department of Culture to pressure the venue to cancel Mr. Liu's exhibit. During the exhibition, numerous plain-clothes police officers loitered on site and some even warned visitors that "It's all Falun Gong inside." The police also told other visitors to not go in.
Mr. Liu Xitong, 56, is a famous calligrapher in Qingdao City and a member of the Chinese Calligrapher Association. He had worked in Anqiu, the Chinese Calligraphy Institution, and the Postal Rehabilitation Center in Qingdao. Mr. Liu was twice sentenced to forced labor camps for practicing Falun Gong.
When Mr. Liu was in the labor camp, authorities spread rumors that he had jumped into the ocean to commit suicide. Many in the Calligraphy Society were deceived. To promote traditional culture, Mr. Liu held several successful and well-received calligraphy exhibits in Weifang and Anqiu in the Shandong Province in 2007. Five major media outlets covered the event. The suicide rumor fizzled.
Mr. Liu said that cultivation in Falun Dafa has improved his mind and given him new inspiration. Many colleagues were impressed by Mr. Liu's new works.
On November 12, 2007, Mr. Liu and his wife Liu Aifang were arrested by Xiangtan Road Police in Licang District, Qingdao City. Their home was ransacked. Among other personal property, police also confiscated Mr. Liu's daughters' desktop computer, laptop computer, and a printer. Police also took many of Mr. Liu's calligraphy works, including the work "Happiness." Police claimed that "these are all Falun Gong material."
On November 13, 2007, Xiangtan Road Police decided to officially detain Mr. Liu for one month under the groundless accusation of "using an [Jiang's slanderous term deleted] practice to obstruct justice." Mr. Liu is held in No. 1 Detention Center in Qingdao City. His wife was not admitted by the detention center due to failing to pass their physical examination. However, the police extorted five thousand yuan from Mr. Liu's daughters before releasing his wife.
Xiangtan Police Station in Licang District Qingdao City: 86-532-66576631, 86-532-66576632, 86-532-66576633, 86-532-66576634, 86-532-66576635, 86-532-88666763
Liu Zhengpo: 86-13792829967
Assistant Station Directors: Gu Dali: 86-13793206333