World-Renowned Cellist: "The Divine Performance Arts Company is Excellent; I Watched the Show Twice." (Photo)
(Clearwisdom.net) Ms. Christine Walevska, a world-renowned cellist, saw the first performance of the Holiday Wonders show at New York's Beacon Theatre on December 18. She said that the show is the best she has ever seen. On December 21, she took a friend with her and went to see the show again. She said the show is so good that she went twice.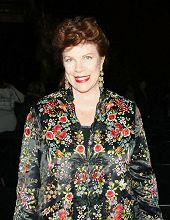 Ms. Christine Walevska, a world-renowned cellist
Ms. Walevska highly praised the show. She said the Mongolian dance, the drum dance and the beautiful costumes and music are the best. She praised the actors, especially the singers Mr. Guan Guimin and Hong Ming, as world class singers.
Ms. Walevska described the show as "out of this world." It far exceeded her expectations.
On December 21, she came to the show again with a friend. Ms. Walevska said that this time, she had more feelings about the show, and had better understandings of the contents of the dances. She said: "One needs time to experience and savor such a wonderful performance."