Sweden: Human Rights Conference Calls for Thorough Investigation into the CCP's Stealing Human Organs (Photos)
June 22, 2006 | By a Falun Dafa practitioner in Sweden
(Clearwisdom.net) An NGO named SHRIC (Supporting Human Rights in China) in Sweden held a human rights seminar entitled, "China's Human Rights and the Future," on June 19, 2006 at ABF-huset in Stockholm.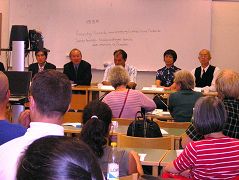 Human rights seminar site
Proposed by human rights activist Mr. Chen Shizhong and the person in charge of the Chinese Democratic Party Overseas Exile Headquarters, Mr. Xu Wenli, several dozen scholars and experts attending the conference passed a resolution calling for a thorough investigation into the CCP's organ harvesting and calling for a withdrawal of the charges against Wang Wenyi.
The resolution strongly denounced the CCP's crimes against humanity by harvesting organs from living Falun Gong practitioners, and called on US President Bush and the US Supreme Court to drop the charges against Wang Wenyi (who cried out at the White House during Hu's visit), and immediately conduct an independent investigation into all forced labor camps in China, expose the CCP's crimes of live organ harvesting and punish the real criminals.
The resolution will be copied to President Bush and the US Supreme Court.