New Zealand: Falun Gong Practitioners Hold a Protest Hunger Strike - Veteran MP Comes in Person to Support (Photos)
(Clearwisdom.net) On March 19-21, 2006, Falun Gong practitioners in New Zealand held a 48-hour relay hunger strike on the busiest street in city center to protest the Chinese Communist Party's (CCP) ruthless atrocities of having built a secret death camp to harvest Falun Gong practitioners' organs for profit. Local Green Party MP Mr. Keith Locke came to the site to support the Falun Gong practitioners' protest and sign the petition.
During the 48 hours, practitioners collected more than 2,000 signatures from people showing their support. Some practitioners stayed for two nights at Aotea Square while holding the protest hunger strike.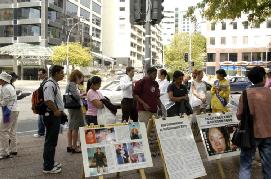 Falun Gong practitioners tell local people the shocking news recently disclosed to the world
According to the Clearwisdom.net website, the CCP has built a secret Sujiatun Concentration Camp in Sujiatun, Shenyang City, Liaoning Province. The secret camp illegally detains Falun Gong practitioners and harvests their organs for profit. Since the appalling information was disclosed, the CCP has ordered a blockade on the news. After hearing this shocking news, many Falun Gong practitioners voluntarily came to participate in this huger strike activity. Some of them held a one-day hunger strike, and some two days. They told the local people that this recently-disclosed appalling atrocity is happening in today's world and has far exceeded the base line of human decency.
A kind Chinese woman did not want to admit this fact when just hearing about it, but finally she believed it after Falun Gong practitioners explained it to her in depth. She and her daughter also asked the practitioners to help them withdraw from the Young Pioneers (a CCP organization).
A handsome western young man had planned to travel to China. After seeing and hearing about this tragic incident, he decided not to go.
A doctor passed by and saw and read our truth clarification flyers. He immediately signed the petition and said seriously, "This news should be the front page news in the Western media. The incident is so appalling. If I didn't see the photos, I would dare not believe it, because practitioners displayed the photos of 44-year-old Falun Gong practitioner Wang Bin from Heilongjiang Province. He was severely beaten by the police officer Feng Xi at Daqing Men's Forced Labor Camp and died as a result of beatings. The photos prove that his internal organs were mercilessly harvested and his skin was sewn with stitches after he was beaten to death."
An older woman who did not speak English passed a flyer to a westerner in his 50s. He finished reading and embraced her with a complicated feeling of sorrow and trying to console her.
There happened to be a protest of more than 500 high school students against low salaries for the students on the streets of Auckland. After their protest was over, many young people saw our banners and read our display boards. Falun Gong practitioners explained to the western children about the CCP's Nazi-like atrocities happening now in the 21st century. They were very surprised and found it inconceivable. They condemned the atrocities and signed their names in support. Someone asked if they could take signature collection sheets home for their friends to sign. Some also asked if they could donate money. Practitioners replied, "We don't accept donations, but we thank you for your kindness. We hope you can tell your friends about this atrocity that brings great shame on human civilization or write to your MPs, or inform the media. The remaining 2000 lives may have a hope to survive. Otherwise, they will suffer the same tragedy of having their organs harvested while they are alive."
Practitioners expressed that the revelation of the Sujiatun Concentration Camp exposed the CCP's Nazi-like atrocities that it has tried all means to cover up. The CCP's outrageous and inhuman atrocities are the biggest disgrace in modern civilization, and an offence against humanity and morality. Every righteous country, government, organization and person must firmly say no to the CCP's tyranny.