Toronto: Divine Land Marching Band Performs for the Taiwanese Community (Photos)
October 12, 2006 | By Minghui reporter Ye Linghui
(Clearwisdom.net) On October 7, 2006, the Taiwanese Community in Toronto, Canada, held a parade to celebrate the 95th birthday of the Republic of China. The organizers invited the Divine Land Marching Band to perform in the parade.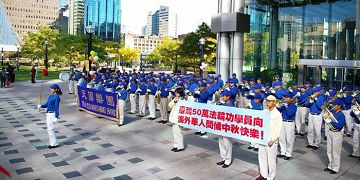 The Divine Land Marching Band performing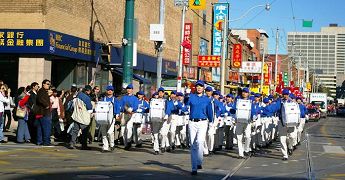 Passing through Chinatown
Mr. Jiang, the manager of the band, told reporter that the band was started up in April 2006. Since then it has already attended 15 community activities. This was the first time for the band to attend an activity in the Taiwanese community.
"There are about 500 thousand Falun Gong practitioners in Taiwan," said Mr. Jiang, "We represent Falun Gong practitioners in Taiwan to greet the Taiwanese people overseas."
Ms. Ren, a member of the band, is from Taiwan. She said: "Falun Gong taught me the principles of Truthfulness-Compassion-Forbearance, and improved my mind and body. I am very happy to attend this activity in the Taiwanese community. I wish the best of luck to Taiwan."
Mr. Chen Yinting, the president of the Taiwanese Association in Ontario said that he was moved by the performance of the band and really appreciate them. Mr. Chen said: "The band made a very deep impression on the spectators. We are honored that the band attended our parade."