Stories From Clarifying the Truth during Hu's visit to Canada (Photos)
September 13, 2005 | By a practitioner from Toronto
(Clearwisdom.net) Hu Jintao's visit to Canada provided Falun Gong practitioners a good opportunity to clarify the truth to the society. Over the two weeks prior to Hu's visit, anti-torture exhibits were held on busy Toronto streets and in front of City Hall and Queens Park, the heart of Ontario's Provincial government. Various summer street celebrations were also good places for practitioners to distribute truth-clarification materials and collect petition signatures.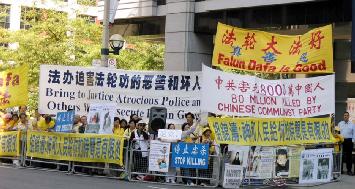 Practitioners in front of the hotel where Hu stayed
Prior to Hu's arrival in Canada, Falun Gong practitioners sent a petition letter signed by more than 100,000 people to Prime Minister Paul Martin. The letter read, "In the persecution of Falun Gong over the past six years in China, at least 2780 practitioners died due to the persecution. Hundreds of thousands of practitioners were imprisoned and mistreated. We hope that Prime Minister Martin would openly urge Hu to end the persecution of Falun Gong when he meets with Hu."
Using all possible ways to allow Chinese people to learn about the facts
In order to allow Hu Jintao and his retinue to hear or see the facts, practitioners hastened to make many banners. They were not afraid of the difficulties and hung banners on the highway bridges on the route from the airport to the hotel where Hu stayed. Outside the hotel where Hu stayed, practitioners started their preparation as early as 7 a.m. At around 11:30 a.m., Hu's motorcade secretly entered the hotel from a small street behind the hotel. The well prepared Falun Gong practitioners were the only group of people who actually "greeted" Hu's motorcade. Outside Hu's hotel, practitioners exposed the persecution facts and urged to stop the persecution and punish those evildoers. Their appeal has never ended.
The beauty of Truthfulness, Compassion, and Tolerance awakens worldly peopl
e
Around noon time, at the east side of Hu's hotel, a group of people circled several Falun Gong practitioners and cursed them loudly. According to Ms. Li's description after the incident, "Those people did not only curse us, but they also pushed and pulled us and attempted to rob the banners in our hands. Later, police officers came and drove them away."
"Nevertheless, we persisted in not swearing back when sworn at, and not striking back when pushed or pulled," said Ms. Li, "Later, a lady said to us with indignation that those people were from the Chinese Consulate. What they did was wrong. She went to argue with them, but they did not listen to her. That lady and her child left the 'welcoming team'"
A young western lady named Sarah-Grace expressed her wishes to learn Falun Gong. She said, "This is the first time that I saw such kind of people. All silently sat and did meditation. I did not a leader. The tranquil and unique atmosphere really touched me."
Having thought in heart to save people, Gods will help
Hu and his retinue went to visit the Niagara Falls which is 150 km away from Toronto in the afternoon. Some practitioners also drove over there.
Practitioners Mr. Liu and Mr. Ran drove into the Niagara Fall area. The police vehicles behind them sealed off the road. As soon as they unfurled the huge banner which read, "Hu Jintao, the time Gods and people give you is limited", Hu's motorcade passed by. What they saw first was a Falun Dafa banner.
Practitioner Ms. Wu unfurled a Falun Gong truth-clarification banner. She stood exactly at the place where Hu Jintao got off his vehicle. She shouted in a close vicinity to Hu and his retinue, "Falun Dafa is great!" and then play the song, "Falun Dafa is good."
A practitioner Ms. Zhou held a sign that exposed the persecution suffered by Mainland practitioner Ms. Gao Rongrong. She stood on the passageway from where one can overlook the Falls. She accidentally met Hu Jintao and his followers. She walked over and highly held the sign and shouted, "Immediately stop the persecution!" and "Bring the evildoers who persecute Falun Gong to justice!"
Canadian government's supportive response
On September 9, 2005, Canadian Prime Minister Martin brought up 10 human rights cases including Falun Gong during his meeting with Hu Jintao in Ottawa. He clearly pointed out that Canadian people pay attention to China's human rights record. During his talk with Hu, he would not put more weight on trade and investment than on human rights.