Montreal, Canada: Practitioners Hold Press Conference to Expose the Persecution by Chinese Spies (Photo)
June 24, 2005 | By Minghui reporter Zheng Ziyan
(Clearwisdom.net) Falun Gong practitioners in Montreal, Canada, held a press conference on June 21, 2005, to expose the monitoring and persecution of Falun Gong practitioners in Canada by Chinese Communist Party (CCP) spies. The practitioners also condemned the recent murder of Falun Gong practitioner Ms. Gao Rongrong in China. Ms. Gao, from Liaoning Province, was recently killed, after months ago, her face was disfigured by brutal electric shock torture. The practitioners also called on Canadian people from all walks of life to take measures to stop the persecution.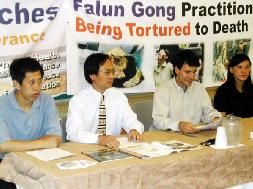 Press conference site
Spokesperson Francis said that Chen Yonglin, a political consul at the Chinese Consulate-General in Sydney, has defected and exposed the facts of the persecution of Falun Gong outside of China. Thao Fengjun, a former officer in the Tianjin 610 Office, has also defected and has revealed that the CCP has infiltrated Canada and other countries with a large number of spies to monitor Falun Gong practitioners, infringing upon other countries' sovereignty. Mr. Hao stressed that the CCP's brutal persecution of Falun Gong was his fundamental reason for deciding to escape the CCP. Another former high-ranking official, who also defected in Australia, witnessed the murder of Falun Gong practitioners.
In a separate incident, CCP hatchet men, including deputy division head of the No. 2 Division of Longshan Forced Labor Camp Tang Yubao and team head Jiang Zhaohua, tortured Falun Gong practitioner Ms. Gao Rongrong with electric batons, which disfigured her face. On June 16, 2005, the labor camp authorities deliberately murdered Ms. Gao Rongrong. This is yet another crime of the CCP, in addition to making use of spy networks to persecute practitioners.
Spokesperson Francis emphasized that the large network of spies exposed in Canada is only the tip of the iceberg of the CCP's persecution of Falun Gong. It is seeking to stop overseas Falun Gong practitioners from clarifying the truth and calling for an end to the persecution. In order to bring these acts of spying against Falun Gong practitioners to a halt, the CCP's persecution of Falun Gong in China must be stopped.
Six practitioners shared their personal experiences to expose the CCP spies' despicable acts of surveillance, harassment and intimidation that have frightened the Chinese community in Canada.
Senior engineer Mr. Fan Ziyu, entrusted by an American company to work in Tianjin, was abducted by National Security special agents in 2002. Mr. Fan said, "The special agents talked about the personal situations of practitioners in Montreal, giving details I didn't even know about. They also had obtained all the articles written for the 2000 Montreal Cultivation Experience Sharing Conference. Besides me, only female spy He Bing had read all those articles. He Bing was sued in 2001 for slandering Falun Gong in a weekly newspaper in Montreal and now has escaped back to China." The National Security special agents also wanted to "make friends with him" and "keep in touch" to obtain information about Falun Gong practitioners, but Mr. Fan refused them on the spot.
Ms. Zhu Ying returned to China in 2001 to visit her parents and was abducted and detained for 33 days. The National Security special agents claimed that they knew everything about every practitioner in Montreal. Later, her relatives were monitored and intimidated and dared not associate with her.
Mr. Zhu Xueye returned to China to visit his parents at the end of 1999. He was immediately arrested as soon as he entered Customs. The customs officers even told him clearly that they already knew all about his whole journey.
Other than being denied entry when returning to China, Ms. Li Zhili's life in Canada was restricted. The "Lotus Art Troupe" she belongs to participated in the celebration activities in the community and was warmly received. But when the CCP's spy intervened, the sponsors usually succumbed to the pressure and cancelled their performance. Li Zhili said, "Once, a person in charge of the community told me, 'If I allow you to perform, I will no longer be the deputy chairperson.'"
Ms. Yang Hui told how she and six other practitioners were harassed with numerous phone calls in February. The calls were one-minute recorded messages slandering Falun Gong. Accountant Mr. Guan Weidong received a phone call even more "directly." "At midnight one day, a strange man called my home and said, 'Don't practice Falun Gong any more, otherwise, your life is in danger.'"
Reporters from the French newspaper Montreal, the French Edition of The Epoch Times and Chinese NTD-TV attended the press conference.