Taiwan: People Are Moved to See 3000 Practitioners Celebrate Falun Dafa Day Outdoors Despite Heavy Rain (Photos)
May 19, 2005 | By a practitioner from Taiwan
(Clearwisdom.net) In the year 2000, through discussion, Falun Dafa Associations around the world decided to set May 13 as the "World Falun Dafa Day." Now, Falun Dafa practitioners and their supporters from all over the world are celebrating this special day. May 13 this year marked the 6th anniversary of World Falun Dafa Day and the 13th anniversary of the worldwide spread of Falun Dafa. On this occasion that heaven and earth are celebrating together, about 5,000 Taiwanese practitioners from Taipeng Jinma gathered at the designated place in Taichung City to celebrate World Falun Dafa Day, despite heavy rain and strong winds. Mr. Lin Chia-long, former director of the Press Bureau of the Executive Yuan, and the Mayor of Taichung City, Mr. Jason Hu, came in person despite the rain to extend their congratulations. They expressed that they are deeply touched by Falun Gong practitioners' uncompromising courage and acknowledged the blessings and goodness brought by Falun Gong to the entire world.
Despite the rain, 3,200 Falun Gong practitioners form Chinese characters, "Truthfulness-Compassion-Forbearance" and the Falun emblem.
According to the Taiwan Falun Dafa Association, which sponsored the event, since July 20, 1999, the Chinese communist regime headed by Jiang Zemin has abused the entire national machinery to defame and suppress Falun Gong. At that time, many people worried about whether Falun Gong would be able to resist the persecution. Today, the persecution has lasted for six years, and people have seen that Falun Gong practitioners throughout the world persistently support fellow practitioners in China, who have become more and more steadfast and courageous. Therefore, even a heavy rainstorm is unable to affect any of their activities. The Association hopes that through this event more and more people will learn about Falun Gong and pay attention to the six-year-long cruel persecution of Falun Gong practitioners in China.
The cloudburst had continued for several days, and many organizations canceled their outdoor activities. Despite the pouring rain, Falun Gong practitioners celebrated World Falun Dafa Day with character forming, group practice, a concert and garden tour. During this year's celebration, a special activity was to release doves of peace to commemorate Falun Gong practitioners who have died in the brutal persecution.
| | |
| --- | --- |
| Drum and Flag troupes (from NTDTV) | Dance performance |
The celebration began with a performance by NTDTV's drum and flag troupes. Several media outlets, including United Daily News, China Daily, Munsang Poh, Taichung Times, and Liberty Times came to gather news. Mr. Lin Chia-long, former director of the Press Bureau of the Executive Yuan said in his speech that he witnessed the beauty of Falun Dafa through observing that his teacher, Professor Chang Ching-hsi and other senior schoolmates and teachers from Taiwan University practice Falun Gong. He said that cultivating Falun Gong could not only improve one's physical and spiritual health, but it also helps improve families, careers, and even our society and nation.
| | |
| --- | --- |
| Mr. Lin Chia-long, former director of the Press Bureau of the Executive Yuan delivering speech | Mayor of Taichung City, Mr. Jason Hu was moved to see more than 4,000 practitioners practicing in a cloudburst. |
Mr. Lin Chia-long: "We should invite Master Li to Taiwan because we want to learn from him"
Talking about the belief in "Truthfulness-Compassion-Forbearance," Mr. Lin pointed out that "Forbearance" involves an upgrading of a person's realm of spirit; namely, one looks at everything in the world from a high-level perspective. He highly praised that Master Li Hongzhi presents the beauty of human beings through his own earnest practice of what he teaches. Mr. Lin stressed that any suppression against a movement that is promoted by one's heart will definitely fail.
Mr. Lin mentioned that he had attended many Falun Gong events over the past five years. He recalled that four years ago when a Falun Gong conference was held, the national security department had plenty of worries. They were afraid of offending the Chinese communist regime and considered that they would not allow Falun Gong practitioners from outside Taiwan to attend the conference. At that time, Mr. Lin was a consultant in the Taiwan National Security Committee. He convened a meeting in the National Security Committee and decided to open the Falun Gong conference to all, and said, "We should invite Master Li Hongzhi to Taiwan, because we want to learn from him." He wishes to bring the beauty of Falun Gong to all Taiwanese people.
Mayor Jason Hu represented 1.02 million people in Taichung to welcome Falun Gong practitioners
Taichung's Mayor, Mr. Jason Hu, came to attend the celebration as well. He said that all outdoor activities these two days were canceled except for Falun Gong practitioners' event. He said it was really remarkable that Falun Gong practitioners still conducted their event in such bad weather. Seeing more than 4,000 practitioners wearing raincoats and practicing the exercises, he felt deeply touched. He represented 1.02 million people in Taichung to welcome the practitioners.
Mayor Hu expressed that what practitioners of Falun Dafa seek is naturalness, health, and harmony and peace of mind, and they will definitely have a joyful life. He said, "I hope you will often come to the City of Taichung. We will always welcome Falun Gong. I also hope you will spread the happiness and beauty to the entire world. Taichung's people will always remember you."
Downpour is unable to prevent Falun Gong practitioners from sending forth righteous thoughts to stop the Chinese communist regime's persecution
Governments and nongovernmental organizations support Falun Gong and provide assistance
The coordinator of the event, Mr. Chan Kun-mao, said that such a large-scale event is really rarely seen in the Taichung region. During the process of applying for the permission and place to hold the event, the Taichung police department and city government actively provided much assistance when they learned that it was a Falun Gong event. They received practitioners courteously. Miss Gao, anchor of the Wangchunfeng radio station announced the event in her prime time show free of charge. Photographers took the initiative to provide free high-altitude photographing service. When a practitioner arranged the place to take photos from a high building, he talked about the benefits he obtained through the cultivation of Falun Gong. Many high building managers provided convenient access upon learning the truth of Falun Gong.
One of the coordinators, Qiu Tian-chee said, "World Falun Dafa Day was established to celebrate Master Li's birthday and the worldwide spread of Falun Dafa. This is the first celebration held in Taichung City. More than 5,000 practitioners from across Taiwan, including Jinmen Mazu, participated in the event. Although it kept raining heavily from the morning, the 3,200 practitioners who participated in the character forming steadfastly sat at their positions and formed the characters, 'Truthfulness-Compassion-Forbearance' and the shining Falun emblem. This symbolized the beauty of Falun Dafa."
We hope that the event will present the beauty of Falun Dafa and we hope to let the entire world be aware that although Falun Gong can be practiced freely in Taiwan and other countries in the world, it is severely persecuted in its country of origin. The oppression has lasted for nearly six years. We call on the whole world to learn and to pay attention to the human rights violations.
The rainstorm will not last long, the dawn will come soon
In addition to the character forming, the "Truthfulness-Compassion-Forbearance" international art exhibition and garden tour, starting from 2 p.m., more than 5,000 practitioners built up a Great Wall of Falun Gong along the Chunggang Road. Several hundred banners reading, "Falun Dafa is great" were presented. From the Taichung railway station to Liming road, the great wall stretched 6.3 kilometers. The scene was grand and attracted attention from numerous vehicles passing by.
A young mother and her five-year-old daughter worked hard to hand out flyers and clarify the truth. Some people stopped to read flyers or watch the exercise demonstration. The float decorated by some practitioners drew great attention from people walking or driving by. Peace and serenity replaced the noise. At this moment, the sun appeared and all dark and dense haze and rain disappeared. It also symbolized that the cruel persecution suffered by Mainland practitioners will not last long. The evildoers will eventually be brought to justice.
Great Wall of Falun Gong built by more than 5000practitioners stretches 6.3 kilometers and the scene is grand.
Young practitioners' waist drum troupe
When the persecution first began, Falun Gong was practiced in about 30 countries, including Hong Kong, Macao, Taiwan, North America, Europe and Australia. Six years later, Falun Gong has been spread to 78 countries around the world. According to statistics from the Minghui website, as of May 2005, Zhuan Falun has been translated into 25 languages and published throughout the world. Translations into more languages are in progress. More than 2490 proclamations, supportive letters, and resolutions to honor and support Falun Gong and its founder Mr. Li Hongzhi have been issued by governments, congressmen or parliament members and other officials and organizations across the world.
The "Truthfulness-Compassion-Forbearance" International Art Exhibition displayed the beauty and goodness of Falun Dafa as well as the tragedy of the persecution. Artists from all over the world presented the real stories about the Chinese communist regime's ruthless persecution of people who believe in "Truthfulness-Compassion-Forbearance" through their paintings. Many people came to view the paintings. Some seemed to ask themselves, "Are these real?"
"Truthfulness-Compassion-Forbearance" International Art Exhibition is held simultaneously
Sincerely thanking Master and wishing Master a Happy Birthday
Ms. Lai from Taipei has practiced Falun Gong for eight years. She had suffered from a skin disease since she was young. Most of her skin was dark and unhealthy looking. Whenever she went out, she had to wear long clothes to cover herself for fear of being laughed at. After practicing Falun Gong for more than a year, her skin underwent huge changes. Her original dark skin gradually sloughed off and her complexion becomes rosy and healthy, as if she had obtained a new life. She feels extremely grateful to Master for giving her a new life.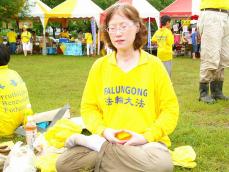 Ms. Lai's healthy and rosy complexion
The Huang family from Taipei practices Falun Gong and the entire family is very happy. Despite the downpour, the husband and wife brought their five-month-old baby to join the event. Nothing could stop them from assisting Master and validating the Fa in the human world. They are determined to come here to celebrate Master's birthday. The parents and the baby are all very healthy and therefore they are not afraid of the bad weather. On this special day, they wished all people with predestined relationship would practice cultivation and be as healthy as them. They also want to call on all kind-hearted people to work together to stop the inhuman persecution in China.


The Huang's family comes from Taipei despite the downpour.
Australian practitioner David has been in Taiwan for eight years. He is working as an engineer in a Kaohsiung high technology company. Four years ago, he saw a group of practitioners practicing meditation at the Kaohsiung cultural center. Curiosity drove him to join the practice. Since he started practicing cultivation, he feels very happy every day. He stressed that freedom of belief should be ensured in each country. No one should be subjected to persecution due to his belief.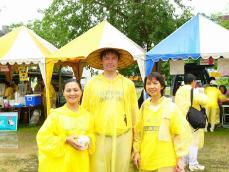 David, an Australian, began practicing cultivation due to his curiosity about Falun Gong.
Taichung residents testify that the event was really touching and beautiful
Mr. Guo from Tainan took a Falun Gong truth-clarifying video CD and a peach-shaped birthday cake. He said that this was his first time to see such a large-scale event. He was quite touched by the large number of participants. He felt that the peaceful practice music was beyond words of description. Mr. Xie said that he saw such a large-scale activity once in Los Angeles and felt very good about it. He said that this shows Taiwan respects freedom of belief.
The last and also the best part of the event was a gala, including a fairy dance, Tang Dynasty dance, chorus and little angel dance. Among the performances, "Pu Du" and "Ji Shi" composed by practitioners, were like melodious music from heaven. The instrument ensemble "Be Saved" moved people's hearts and won rounds of applause. Numerous people stopped to watch the performances. The celebration was pushed to a climax and successfully concluded. Just like some practitioners said, heaven and earth celebrated together.
The event concluded at around 6:20 p.m. Participants all considered that the celebration was significant. It extended practitioners' highest respect to their benevolent Master. Although tired due to the trip and getting wet from head to toe, practitioners felt it was all very much worth the effort.