AFP: Bush urged to raise crackdown on Falun Gong with Chinese leaders
Nov 14, 2005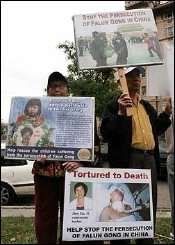 Falun Gong practitioners and supporters hold a rally at the Chinese Embassy in October 2005 in Washington, DC. US President George W. Bush was urged to raise Beijing's crackdown of the Falun Gong spiritual group during his talks this week with Chinese leaders (AFP/File/Nicholas Kamm)
President George W. Bush was urged to raise Beijing's crackdown of the Falun Gong spiritual group during his talks this week with Chinese leaders.
"President Bush must bring up the Falun Gong in his public meetings with President
Hu Jintao and China's leaders, and call for, in unambiguous terms, an end to the suppression," the group's spokesman Erping Zhang said.
"It is imperative China's leadership hear in strong terms that what they are doing to Falun Gong is unacceptable and needs to stop," he said in a statement.
Zhang claimed that there had been a rapid increase in the number of Falun Gong deaths from "torture and abuse in custody."
[...]
The US State Department last week expressed regret over the "suffering" of Falun Gong followers in China while releasing its annual report on international religious freedom. In the report, China received a "poor" record for respect for freedom of religion and freedom of conscience.
John Hanford, the US envoy for international religious freedom, said "while the Falun Gong are not officially a religion, more a spiritual movement, the suffering that they have endured is unspeakable.
"There have been so many who have been arrested -- thousands and thousands, many who have died in police custody and the problem just doesn't seem to abate. And so this is something we all are deeply concerned about."
Twenty-one US legislators had written to Bush to highlight alleged human rights abuses, including torture, when he visits Beijing on October 19.
The leader of the opposition Democrats in the House of Representatives, Nancy Pelosi, said human rights should be "a top priority" in the bilateral agenda.
"We once again call on Beijing to release the thousands of prisoners of conscience whose only crime was to demand their basic human rights," she said.