San Francisco, U.S.A.: Falun Gong Practitioners File Criminal Lawsuit Against Huang Huahua For Participating in the Persecution of Falun Gong (Photos)
October 17, 2005 | By Kerry Huang
Minghui/Clearwisdom Correspondent from San Francisco
(Clearwisdom.net) On the morning of October 14, 2005, International Advocates for Justice and Human Law Projects filed a criminal complaint to the U.S. Federal Court in Northern California against Huang Huahua, Governor of Guangdong Province of the Chinese communist regime, for torture. The complaint also asked the Federal courts to thoroughly investigate Huang's crimes and carry out a criminal trial of those who have committed crimes of torture outside the U.S., in accordance with federal laws. In the meantime, the complaint requested the Federal Court to inform the U.S. Customs, Immigration Office, Homeland Security and the FBI about Huang Huahua's crimes.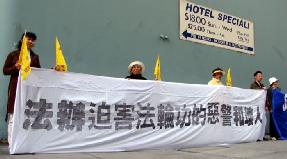 Falun Gong practitioners call for an end to the persecution outside the hotel where Huang Huahua conducts his business event.
On October 14, Huang Huahua and his delegation held a commercial event at the Hilton in San Francisco to attract investment in China. Falun Gong practitioners from the Bay Area unfurled banners outside the hotel. The banners read, "Bring Evil Police and Evildoers Who Persecute Falun Gong to Justice," and "Stop the Persecution of Falun Gong in China." They held a press conference at noon to publicize the lawsuit against Huang Huahua. One of the plaintiffs, Ms. Zhou Xuefei came to the site and bore witness.
Ms. Zhou Xuefei originally worked as a best seller editor at an advertisement company in Shenzhou City, Guangdong Province. Because she practices Falun Gong, she was unlawfully sentenced to 3 years in a labor camp where she almost lost her eyesight due to the persecution. Later, through overseas practitioners' great rescue efforts and support and help from U.S. government officials and international human rights organizations, she was rescued to the U.S. at the end of last year. Ms. Zhou said, "Many Falun Gong practitioners are illegally imprisoned in the labor camp. At one time, the vicious guards used four electric batons to simultaneously beat and shock a female practitioner. The miserable cries due to the torture made one tremble with fear..."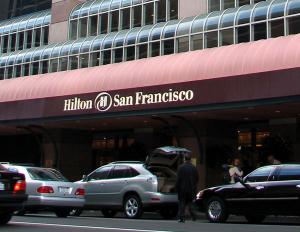 Outside the hotel, many members of the Guangdong delegation could see the Falun Gong practitioners' peaceful protest through their window
Ms. Duan Li, representative from the Western American Falun Dafa Association pointed out that according to incomplete statistics, during Huang Huahua's tenure as Secretary of the Guangzhou Municipal Communist Party Committee, thirteen Falun Gong practitioners died from the persecution, three practitioners became handicapped due to torture, three practitioners were persecuted so badly that they suffered a severe mental collapse, and sixty-six Falun Gong practitioners were subjected to various tortures. Because the Chinese communist regime tightly blocks off the flow of information, the actual persecution cases could be much more than what is known.
In addition, international human rights organizations have already confirmed the persecution of Falun Gong practitioners in China. The Chinese communist regime's persecution of spiritual belief has been documented at length by the United Nations and other international human rights organizations. The UN Working Group on Arbitrary Detention, UN Working Group on Disappearances, and UN Special Rapporteur on extrajudicial, summary or arbitrary executions have issued their reports on this regards.
Ms. Duan Li said that according to the U.S. Immigration and Naturalization Act, Section 212(a)(2)(G), and International Religious Freedom Act of 1998 (IRFA), foreign government officials who have engaged in particularly severe violations of religious freedom in the past 24 months, and their spouses and children, are inadmissible to the United States.
The criminal lawsuit filed against Huang Huahua is the first suit Falun Gong practitioners filed after the Falun Dafa Association announcement was published on October 9, 2005. The announcement pointed out that, "Those who refuse to do the right thing and instead continue to follow Jiang's [Zemin's] scoundrel regime's persecution policies will be severely punished as perpetrators of unforgivable crimes."
"At this critical historical moment, the Falun Dafa Association has made a special announcement: From today on, overseas Falun Gong practitioners will file civil or criminal lawsuits against all important government or CCP officials who participate in or continue to implement the persecution of Falun Gong and as a result, commit new crimes in addition to those they have already perpetrated against Falun Gong.."
Some Chinese government officials complained about overseas Falun Gong practitioners' legal actions and considered that the suppression of Falun Gong was decided by "national policies" and they themselves should not be taken accountable as they just passively "executed the policies." In response, U.S. Falun Dafa practitioners pointed out that it's understandable that people tend to protect their vested interests. However, it indeed violates the law to take the blood and lives of Falun Gong practitioners, who follow the principles of Truthfulness, Compassion, and Forbearance, as a price to protect their vested interests. In addition, the persecution plays an extremely bad role in that it demolishes social morality and destroys social stability. Killing is killing. Whether you take the initiative to kill or you passively kill for others, you are still committing a crime.