World Journal: Supporting the Hong Kong People, Opposing Article 23 (Photo)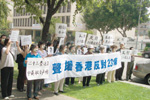 More than 40 people from the Los Angeles Chinese community held anti-Article 23 banners to protest in front of the Chinese consulate in Los Angeles and to support the July 1 march in Hong Kong
(Clearwisdom.net) World Journal reported from Los Angeles on June 29 -- Chinese organizations and clubs, including human rights organizations and Falun Gong, demonstrated in front of the Chinese consulate. They held banners to support the Hong Kong residents' march against Article 23 that is going to take place on July 1 in Hong Kong.
On June 28 at 11 a.m., some Los Angeles Falun Gong practitioners participated in a press conference along with the Hong Kong Forum, Amnesty International, the Visual Arts Association, the China Social Democratic Party Western America Branch, and "China Affair" magazine in supporting the Hong Kong residents' parade against Article 23.
The demonstration on June 28 in front of Chinese consulate was organized by the Global Coalition Against Article 23, Hong Kong Forum, Amnesty International, the Visual Arts Association, the China Social Democratic Party Western America Branch, and "China Affair" magazine, China Human Rights and Falun Gong. Over 40 people were present at the demonstration. They held anti-Article 23 banners and wore masks in protest. The masks had X marks on them, signifying that if Article 23 were passed, Hong Kong's freedoms of speech and press would be tightly controlled, forcing people into silence.
Mr. Liu Yingquan of the China Social Democratic Party Western America Branch said that China adopted the "open door" policy and should learn from democratic countries. Hong Kong did better in terms of freedom of speech and press compared to Mainland, so the Mainland should learn from Hong Kong, not the other way around. Article 23 would cause Hong Kong residents to lose their freedoms of speech and is an evil law.
"China Affair" chief editor Mr. Wu Fan said that if Article 23 were enacted, whatever was implemented in China now could be enforced in Hong Kong. It will be a disaster for Hong Kong. The very reason Mainland China wants to implement Article 23 in Hong Kong is their fear that Hong Kong's democracy and freedom would affect Mainland, causing the Chinese Communist government to lose control of its people. The published Article 23 white paper is still lacking details. It is Chinese government's usual tactics, running a hidden operation and maneuvering behind the scenes. He thought that the current laws are sufficient, and Hong Kong does not need Article 23 to limit the freedom of speech.
Legal expert Yu Haocheng expressed in his speech that once Article 23 is passed, the basic freedoms of Hong Kong's people would be infringed upon and taken away. The people in Hong Kong will be treated like people in the Mainland, without freedom and human rights.
He said that originally Hong Kong's Basic Law did not have Article 23. During June 4, about one million Hong Kong residents went to the streets to support the Beijing students' democratic movement. So in 1990, China's People's Congress dictated that Hong Kong should establish its own law, with excuse of "maintain national safety" and "society stability" to deprive the Hong Kong people of their freedom, and to prevent Hong Kong's organizations from contacting overseas organizations.
Yu believed that overseas Chinese need to work together against the Article 23 legislation. Even if the Article 23 were enacted, we should refuse to acknowledge or follow it.
Professor Mr. Wu Yingnian from the University of California at Los Angeles, representing Falun Gong, expressed at the rally that the so-called "national security" claimed by Mainland China is actually "security" for the dictator's regime to be corrupt and oppress ordinary citizens. Now the Mainland government intends to impose such "national security" upon Hong Kong. Under such a law, people would be deprived of the freedom of belief and speech, and those who persist in exercising those freedoms would be subjected to persecution. The law would become a tool for the authorities to persecute people, and the media would not be able to play the role of checking the government. This would result in Hong Kong losing its prosperity, a decline in the economy, and increased crime and corruption. Every Hong Kong resident would be harmed.