More Details about the Death of Guangzhou Dafa Practitioner Ms. Luo Zhixiang (Photo)
(Clearwisdom.net)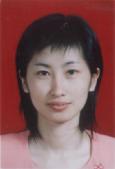 On November 22, 2002, Dafa practitioner Luo Zhixiang from Guangzhou City, Guangdong Province was kidnapped by persons from the "610 Office"* and taken to the Huangpu Drug Rehabilitation Center for brainwashing. She started a hunger strike to protest the persecution. Later she was sent to the Tianhe Chinese Medicine Hospital. On November 31, she mysteriously fell to the ground from the third floor, and suffered a head injury. On December 4th she passed away. She was only 29 years old and three months pregnant. Following is her story:
Luo Zhixiang became a Falun Gong practitioner in 1997. After the persecution against Falun Gong began, she made several trips to Beijing to appeal. Each time, she was beaten by Beijing police officers before local police officials took her back to the Tianhe Detention Center, to serve dual 30-day detentions. In October of 2000, Ms. Luo and her husband were distributing Falun Gong truth-clarifying materials at the Tonghe Town Center in Guangzhou's Baiyun District. Police arrested her husband and sent him to the Baiyun Detention Center. Later he was sentenced two years of forced labor in Chini Town, Huadu City.
During her husband's detention, Luo Zhixiang had to leave her home and move from place to place to avoid being persecuted.
The following are some crimes committed by the "610 Office:"
1. Confiscation of Luo's birth-giving permit. (China's birth control policy requires a couple to get a permit first if they want to have a baby; otherwise, the birth of baby will be considered illegitimate.)
2. Punishment of her family members and relatives. Some of them had their homes searched by police. Some were denied promotions.
3. On November 22, 2002, Luo Zhixiang and her husband were arrested at their apartment in the Haizhu District and were sent to the Haizhu Detention Center. After they found that Luo Zhixiang was pregnant, the "610 Office" people sent her to Huangpu Drug Rehabilitation Center for brainwashing and torture. To protest, Ms. Luo went on a hunger strike for seven days. Later she was taken to the Tianhe Chinese Medicine Hospital by four security guards. On November 30, 2002, for unknown reasons, she fell from the third floor to the ground, and suffered a head injury. Later she was transferred to Jinan University's Overseas Chinese Hospital for treatment. On December 4th she passed away.
Luo Zhixiang's husband was sent to the Huadu District No. 1 Chini Detention Center for forced labor "re-education." The couple was not allowed to communicate with each other. He probably is not aware of his wife's death.
Luo Zhixiang's parents-in-law came to Guangzhou City from their hometown, Rujia Village, in Wujing Town, Linyueju County, Shandong Province. They requested that the subdivision's "610 Office" provide an explanation and financial compensation. The Xinghua Street subdivision "610 Office" originally paid for hotel rooms for Luo's in-laws. But they continuously urged them to cremate her body. The older couple insisted that Luo's husband, their son, should sign the papers to authorize cremation. The "610 Office" personnel threw them out of the hotel. The older couple went to the subdivision administration office and asked for justice. The "610 Office" gathered over sixty people there and called the 110 emergency police number, similar to 911 in the U.S.A, to report a riot. After policemen arrived, they found that it was two people asking for justice. So the police left without incidence.
Criminals: Lai Minghui, Cheng Di and Yan Jia
* "610 Office" [an agency specifically created to persecute Falun Gong, with absolute power over each level of administration in the Party and all other political and judiciary systems.]
March 29, 2003