Practitioners from Ottawa Appeal in front of the Chinese Embassy, Urging Hong Kong to Immediately Dismiss the Groundless Trial (Photo)
August 16, 2002 | By practitioners from Ottawa
(Clearwisdom.net)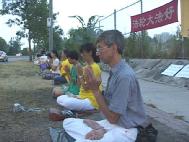 On the afternoon of August 13, Tuesday, in order to support the 16 Falun Gong practitioners, including 4 Swiss practitioners, who were falsely accused by the Hong Kong police, practitioners from Ottawa gathered in front of the Chinese Embassy to hold a peaceful appeal, urging the Hong Kong authorities to immediately dismiss their politically motivated trial of the 16 innocent Falun Gong practitioners and issue a public apology.
Today's temperature in Ottawa reached 34 degree centigrade. But the muggy weather did not affect practitioners' activities of sending forth righteous thoughts once every half-hour. To stop these groundless accusations, to safeguard practitioners' legal rights, and most importantly, to create a beautiful future for the Hong Kong people, some Ottawa practitioners went to Hong Kong to join the 54-hour hunger strike with the practitioners there, and urged the Hong Kong government to immediately stop this political trial. Although other practitioners were not able to personally go to Hong Kong, our hearts are linked together. The practitioners from Ottawa are using their steadfast righteous thoughts obtained through cultivating Dafa to support their fellow practitioners in Hong Kong.
NEWRO, a well-known local TV station, spent more than 2 hours on site to cover the event. The reporters interviewed several practitioners. Through the practitioners' brief introduction and analyzing photos taken while Hong Kong police violently arrested the 16 Falun Gong practitioners, the reporters were able to quickly understand the nature of the so-called "obstruction" and "assaulting police" accusations. By telephone, the reporters also interviewed Lucy, a practitioner from Ottawa, who was taking part in the 54-hour hunger strike in Hong Kong.
The reporter asked Mr. Li if he worried that his wife Lucy's appeal in Hong Kong would end up in violent arrest, just as what the 16 practitioners encountered. Mr. Li answered, "I don't worry about Lucy, because I know what she is doing is the most righteous thing. What I'm truly worrying about is the people of Hong Kong's future."
We also presented lotus flowers that practitioners personally made to two staff members. The flowers that emerge unstained from the mud are just like those Falun Gong practitioners who are steadfastly upholding their belief in "Truthfulness-Compassion-Forbearance," undeterred by violence and totalitarianism. Facing the vicious environment, they refuse to bend or be contaminated, bringing hope and joy to the people around them.