Zhang Cuiying Painting Exhibition Wins High Praise in Springfield, Illinois (Photos)
July 11, 2002 | By Illinois Practitioners
(Clearwisdom.net) With the effort of practitioners from the states of Illinois and Indiana, on July 3, 2002, Ms. Zhang Cuiying, a prominent Australian artist and Falun Gong practitioner, successfully held a painting exhibition in the State Capitol building in the City of Springfield, Illinois. Ms. Zhang's paintings are beautiful, serene and peaceful, and won the admiration of many visitors. State government staff also came to the exhibition and spoke highly of Ms. Zhang's artistic works. July 3rd was proclaimed as "Zhang Cuiying Day". Local TV Channel 20 and other media covered the event.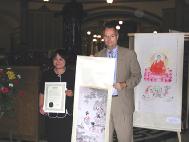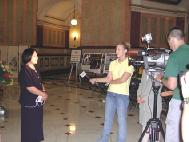 Many visitors said they would visit our websites after the practitioners clarified the truth about Falun Gong to them. After learning that Falun Gong can bring people inner peace, one of the state government staff said, "That's just what I want." She took all kinds of material that we were displaying and said she would read them carefully. Ms. Zhang then presented a painting to her. After hearing about Ms. Zhang's experiences and the persecution against Falun Gong practitioners, she was shocked and could not understand why the Chinese dictator persecutes good people.
At the press conference at noon, Ms. Zhang Cuiying hoped that, through her paintings, people could understand Falun Gong's peacefulness and harmony as well as the strength of "Truthfulness-Compassion-Forbearance." She also hoped that people would feel the inner beauty the paintings revealed. She called upon all kind-hearted people around the world to help Falun Gong practitioners in China to obtain the freedom of belief. She also expressed that she would sell her paintings and donate half of the proceeds to the Truthfulness-Compassion-Forbearance Foundation, and the other half to support the children who lost their parents in the September 11th tragedy.
Ms. Zhang Cuiying presented prominent government officials with prints of her works. The practitioners also demonstrated the five sets of Falun Gong exercises for everyone to see.