Hong Kong Falun Gong Practitioners Hold Appeal in Chater Garden (Photos)
March 22, 2002
(Clearwisdom.net) News from Hong Kong on March 21, 2002: On the afternoon of March 21, 2002, on the occasion of the United Nations' Commission on Human Rights meeting in Geneva, over 150 Falun Gong practitioners held an appeal in Chater Garden and called on all governments in the world, international organizations, and kind-hearted people to act immediately to stop the Jiang regime's escalating persecution against Falun Gong. The practitioners also urged the Hong Kong Government to respect moral values and not to yield to the pressure from Mainland China. They pointed out that it is Jiang's illegal persecution of Falun Gong that should be stopped, not the peaceful appeals of Falun Gong practitioners worldwide, including Hong Kong practitioners.
In addition, the practitioners hoped that through this appeal, people will continue to pay attention to and help rescue the two Hong Kong practitioners being illegally detained in China, Zhu Keming and Lu Bofeng. The next day, the 16 practitioners who were falsely charged of obstruction by Hong Kong police were to be in court. Many media covered the appeal.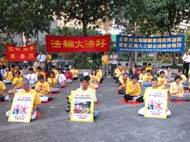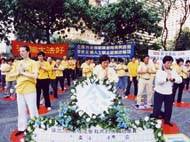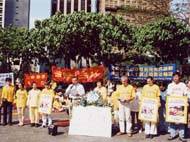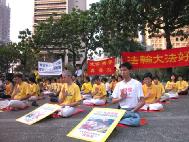 As other groups were appealing in the garden, many people were there, and many local residents and tourists stopped to view. The activity started at 3:00 p.m. with practitioners' sending forth righteous thoughts. Then a practitioner read an opening statement aiming at the Jiang regime's recent escalation of the persecution against Falun Gong and order of "killing without mercy," and the recent arrest and charges against 16 practitioners by Hong Kong police, which indicate that the escalating mainland's persecution has extended to Hong Kong.
The Swiss practitioners recounted their experience of appealing in Hong Kong. The practitioners delivered their appeal letters to a few officials, who called for the withdrawal of the unreasonable charges against the 16 practitioners and the safeguarding of Hong Kong's human rights and rule of law. The whole activity ended at 7:00 p.m. after the practitioners' sending forth righteous thoughts.
On March 20, 2002, the 16 practitioners went to the legislature to appeal and deliver a letter asking for legislators' help in removing the charges.
(Reported by Hong Kong practitioners on March 21, 2002)