Practitioner Sophia Bronwen Palfrey Unfurls Dafa Banner Successfully After Breaking through Checkpoints
On February 16 at 10 a.m., Vancouver practitioners holding flowers and a "Falun Dafa Hao" banner welcomed Sophia Bronwen Palfrey, who had gone to validate Dafa on Tiananmen Square. Returning the practitioners' warm welcome, Ms. Palfrey said in Chinese, "Falun Dafa Hao." At her suggestion, practitioners continued to hold banners and Hongfa to the passengers that came on the same flight. They witnessed the Dafa disciples' compassion. Every passenger had learned of Sophia's experience in Beijing and received a first-hand knowledge of Falun Gong.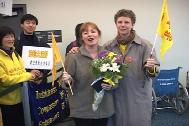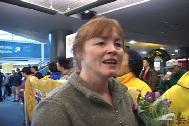 Sophia Returning from Fa rectification on Tiananmen
In the afternoon, Sophia and Andrea Hayley, who had returned the day before, told practitioners their experiences of the magnificent feat that day in Beijing. Ms. Palfrey said that on the morning of February 14 after she left the hotel, with indestructible righteous thoughts she escaped from the close surveillance of three plain-clothed police, passed check points manned by over 20 policemen and walked right onto Tiananmen Square, where she successfully unfurled a golden banner reading "Falun Dafa Hao" and shouted from deep in her heart, "Falun Dafa Hao." Her simple yet vivid description touched everyone's heart and won warm applause.
Hayley described how the 17 practitioners in the hotel room became one, supported each other and refused anything the police requested. "A cute young blonde female practitioner could sing De Du in Chinese. The police changed shifts from time to time, and each time a new group of police came, she sang De Du to them. When she sang, the whole room became quiet. Police secretly listened to her voice attentively. The benevolence and compassion emitted from the song melted everyone's heart."
The stories they experienced during their short stay in China are numerous. Hayley and Palfrey promised to write down their experiences and share them with fellow practitioners.