Proclamation of Falun Dafa Week, City of Montreal-East, Quebec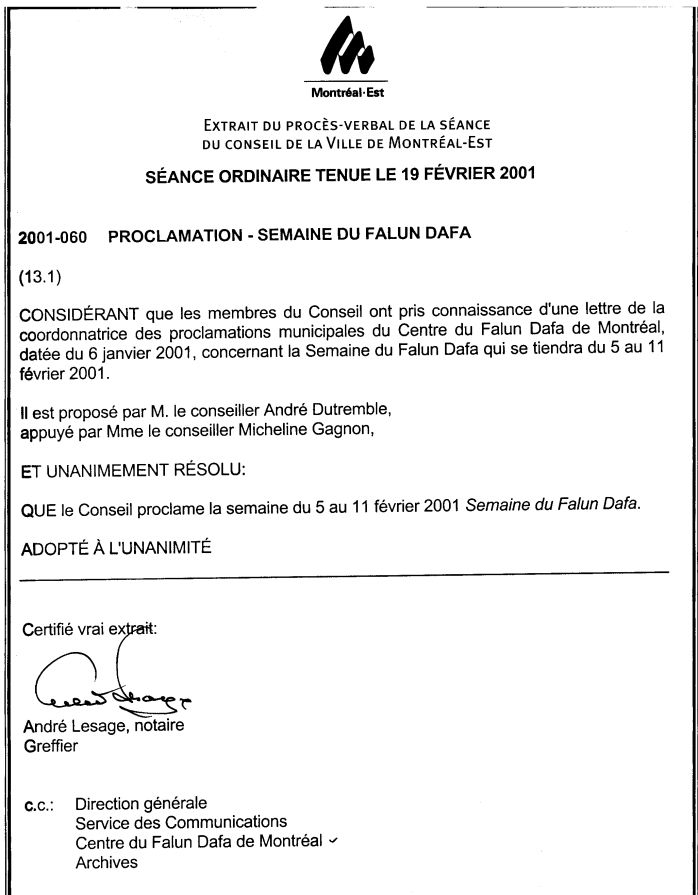 Montreal-East
Extract From The Minutes of the Montreal-East City Meeting
REGULAR MEETING HELD ON FEBRUARY 19th 2001
2001-060
PROCLAMATION FALUN DAFA WEEK
(13.1)
WHEREAS, the members of the Council have recognized a letter from the coordinator for municipal proclamations of the Montreal Falun Dafa Centre, dated January 6th 2001, concerning Falun Dafa Week that will be held from February 5th to the 11th , 2001.
It is proposed by councilor, Mr. André Dutremble,
Supported by councilor Ms. Micheline Gagnon,
AND UNANIMOUSLY RESOLVED,
THAT the Council proclaims the week of February 5th to 11th as Falun Dafa Week.
UNANIMOUSLY ADOPTED.
Certified true extract:
André Lesage, notary.
Deputy Clerk
Cc : General Management
Communication Services
Montreal Falun Dafa Centre
Archives