Teacher Li Hongzhi and Falun Dafa Association Won Freedom House International Religious Freedom Award
On the afternoon of March 14, 2001, Freedom House, a prestigious human rights organization co-founded by Eleanor Roosevelt 60 years ago, held an award ceremony at the conference hall of the U.S. Senate Foreign Relations Committee to honor Teacher Li Hongzhi and the Falun Dafa Association, along with four other groups, as "defenders of religious rights".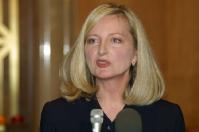 á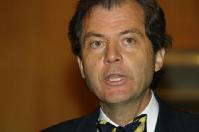 Ms. Nina Shea, Director of the Religious Freedom Center of Freedom House, presided over the ceremony. Ms. Shea is also a member of the U.S. Commission on International Religious Freedom and a member of the U.S. Government Delegation to the UN Human Rights Commission. Mr. Mark Palmer, Vice Chairman of the Board of Freedom House and former U.S. Ambassador to Hungary, attended the ceremony and gave a speech. Senator Jesse Helms, Chairman of the Senate Foreign Relations Committee, Congressman Chris Smith, Vice Chairman of the International Relations Committee, Congresswoman Nancy Pelosi, Chairwoman of the Congressional Working Group on China, and Mr. Michael Parmely, U.S. Assistant Secretary of State for Democracy, Human Rights and Labor, also attended the ceremony and gave speeches.
This is the first time that a non-government organization, with the participations of members from the U.S. Senate and Congress and U.S. State Department, held an award ceremony honoring the Falun Dafa Association and Teacher Li Hongzhi. This award, issued just before the meeting of the United Nations Human Rights Commission in Geneva, also drew the world's attention to Beijing's brutal crackdown on Falun Gong and other religious beliefs.
Falun Gong spokesman, Erping Zhang, accepting the award on behalf of Teacher Li Hongzhi, read out a statement from Teacher Li, who expressed his gratitude to Freedom House, the U.S. Senate and Congress, U.S. government, and U.S. public, for the award and their support.
The Conference Hall was crowded with guests from different communities and groups, and journalists from various news agencies. Voice of America (VOA) and Radio Free Asia (RFA) will report on this event in their Chinese broadcast to the mainland of China.